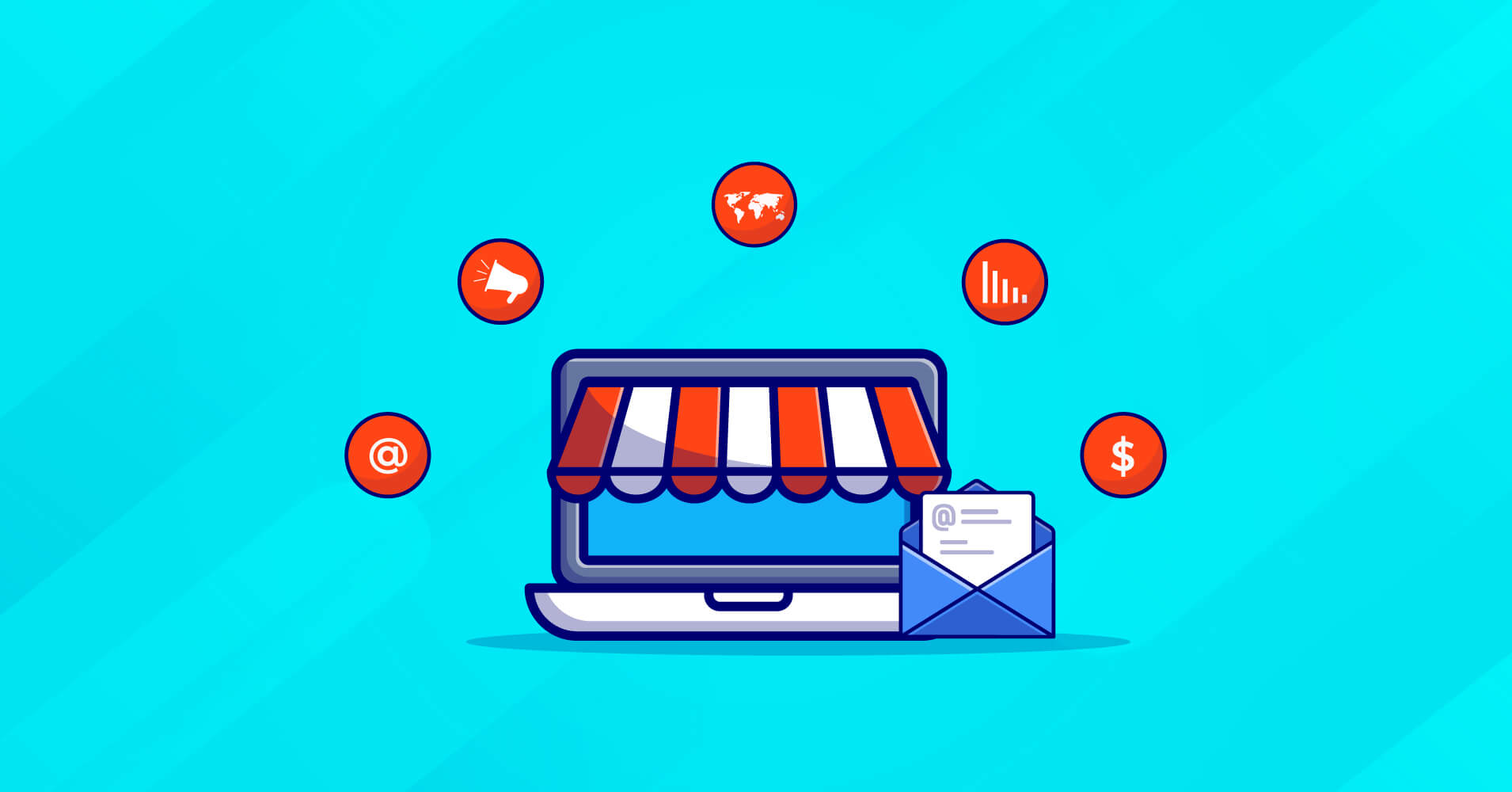 The Ultimate E-commerce Email Marketing Strategies to Boost Your Conversion
Free Tips, News & Tutorials Delivered to Your Inbox!
If you're running an e-commerce business, email marketing is a key part of your marketing strategy. It puts a substantial impact on any online business.
As a business owner, you'd want to:
Grow your business
Stay in touch with your leads and customers
Provide valuable information
Generate sales
But most importantly, you'd want to ensure excellent customer experiences so that they trust your business, feel valued, and keep buying from you.
This is where an effective e-commerce email marketing strategy comes in. With an e-commerce email marketing strategy, you can grow an audience, produce meaningful conversations, generate more sales, and eventually turn your customers into brand advocates!
Let's begin by understanding what is e-commerce email marketing!
What is e-commerce email marketing?
E-commerce email marketing isn't about blasting your audience with promotional offers and discounts. It is about using emails effectively to promote products to existing or potential customers.
It can be straightforward, such as sending occasional sales emails, upsell offers, abandoned cart reminders, etc. Or complicated, like having all kinds of emails working together in motion to boost your online store's sales. But at its core, e-commerce email marketing is about building relationships with your customers.
Types of e-commerce emails
E-commerce businesses often reach out to customers via emails. Welcome emails, lead nurturing emails, sales emails, and abandoned cart emails are just a few examples. The core e-commerce emails can be divided into four types:
Promotional emails: Promotional emails are sent to customers to promote occasional sales activities—for example, new product launch emails, occasional discount emails, limited-time offers, etc.

This kind of email helps e-commerce brands sell more to their existing customers and convert new leads into customers.
Notification emails: Notification emails are usually sent to leads or customers to notify their activities or celebrate an occasion that matters to them. Welcome emails, birthday emails, and thank you emails are some examples of notification emails in e-commerce.
Transactional emails: Transactional emails are sent to customers in order to inform them about their transactional activities. Order confirmation emails, purchase receipt emails, and shipping emails are a few transactional emails every e-commerce businesses send to its customers.
Lifecycle emails: Lifecycle emails are also called behavioral emails. They are sent at various stages of a customer's lifecycle. E-commerce businesses send this kind of email depending on the activity or behavior of a customer using an email marketing automation tool.

For example, FluentCRM integrates with e-commerce plugins like WooCommerce and Easy Digital Downloads to help the users send ultra-targeted behavioral emails based on a customer's lifecycle stage, activity, or data points.
The importance of email marketing in e-commerce
Email may be one of the oldest marketing channels, but it's still more effective than social media. It's affordable, and you can always measure and optimize your efforts for maximum outcomes.
Since email marketing starts with building a targeted audience, it's easier to nurture your target customers through personalized communication. Thus, you'll have a better chance of conversion and revenue.
Additionally, you get to re-engage with your customers if they become inactive somehow, convert cart abandoners, upsell/cross-sell/down-sell products, and so much more! Thus, no e-commerce can survive without email marketing.
If you want to know more about the importance of email marketing, give this article a read.
13 proven e-commerce email marketing strategies to skyrocket your business
Email marketing gives you the chance to reach out to your prospects. But without an effective e-commerce email marketing strategy, your emails won't stand a chance because others are also sending emails.
Implementing an effective email marketing strategy is the surefire way to take your e-commerce empire to the next level. If you're wondering how to get started, take a look at the below strategies:
Onboard leads and customers with welcome emails
Why does someone subscribe to a mailing list?

– Because they want to hear from you.
Besides, the first impression is crucial. So if you don't want your first impression with someone to be the last one, you need to onboard your leads and customers with a single or multiple welcome emails.
Onboarding emails are your best opportunity to share your brand's story with the people who just signed up. You can also use onboarding emails to highlight your best products and generate sales by offering discounts.
While you can opt for a single email to onboard your leads and customers, we advise that you send an email series of two or three emails. That's the sweet spot, according to the experts. Anything beyond that, and you'll scare off the new leads.
An onboarding email series should aim to:
Thank and introduce customers to your brand
Inform them about what to expect
Highlight your best products and tell them how it adds value to their lives
Give them more ways to connect with your brand
If you have promised a discount for signing up, you should also send the coupon code.
Segment your email list for personalization
Just as we mentioned earlier, e-commerce is an incredibly competitive industry. You're not the only one in your recipient's inbox, hundreds of other businesses are also reaching out to the same customer, and email personalization is the best way to stand out among the crowd.
Personalization can improve your overall campaign performance significantly. So if you aren't personalizing your emails, we recommend you to start right away.
To start email personalization, you need to identify what kind of audience data makes sense for your business and segment your email list based on various demographic and psychographic data points.
For example, fashion products are suited for people aged 20-35. On the other hand, people with better incomes are more likely to buy expensive products. Demographic information like this will help you understand your audience's initial interests.
However, behavioral and psychological segmentation can be more powerful. This kind of segmentation technique will let you understand your audience's persona on a deeper level, allowing you to reach out with exactly what your customers need and when they need it!
It's also wise to include your audience's unique information to personalize your emails further. Paying attention to small details like these will surely impress your customers, and they will look forward to opening such emails.
Oh yes! We've compiled some amazing email personalization techniques ourselves. Don't forget to check it out!
Send occasional sales emails
Maybe you're launching a new product, maybe you're running a discount deal, or maybe, there's a sales campaign around the corner. Don't forget to send traditional sales emails whenever you get a chance!
Sales emails are a great way to rack up sales because most customers tend to wait for discounts and offers. According to Adobe holiday shopping insights, customers spent $205 Billion during holiday sale seasons in 2021. Needless to say, a vast majority of these sales came through email marketing!
Note that optimizing your occasional sales emails for conversion is crucial since most other e-commerce businesses also try to engage during sales seasons. To create conversion-oriented sales emails, you need to identify customers who buy more during sales campaigns. To do that, you can segment customers based on that specific timeframe.
During the sales campaign, you can also conduct A/B testing to understand which of your emails are performing and which aren't. This will help you reach out to your customers with the most effective sales emails.
Upsell/cross-sell products
Upselling and cross-selling are two very popular terms in e-commerce. While upselling means selling a more expensive, relevant product to someone who already made a purchase, cross-selling means selling a lower-priced related item.
In both cases, it works because existing customers trust your business and show interest when they are offered a relevant product.
Suppose your e-commerce business specializes in laptops. So when someone buys a laptop, it's easy to assume that they will likely buy a laptop bag if offered. This kind of approach can greatly increase average order value(AOV) and boost your income.
Relevance is the key to making upsells and cross-sells. If you want to boost the conversion rate further, you can also include discounts or exclude shipping fees.
Offer discounts to repeat buyers
Repeat customers are the ones who'll help you multiply your business growth. They'll keep buying your products and recommend them to their family and friends. What are you doing to keep them motivated?
The best way to earn repeat customers is to provide excellent after-sales support. And to boost their interest to keep buying, it's important to have a loyalty program.
How can you do this?
Well, it's pretty easy if you use a CRM that integrates with your email marketing program. For example, FluentCRM lets you segment your customers by purchase history information such as total order count and total purchase amount.
Once you've found your repeat customers, you only have to send an email asking them to join your loyalty reward program. You'll also improve your relationship with them as they will feel special.
Conduct A/B tests
A/B testing is also called split testing. It's as simple as sending two or more versions of your emails to a specific segment of your customers to understand which email is performing.
What's best about A/B testing is that it helps you maximize your conversion potential. Think of why would someone open and read your email?
Surely it's the subject line because that is what people get to see first.
If you test multiple subject lines against each other, you'll see different open rates for each of them. Once you understand the differences, you can confidently use the subject line that produced the maximum open rate.
Keep growing your email list
Email list churn isn't abnormal. Since it's mandatory to include an unsubscribe link in order to comply with the CAN-SPAM Act, leads can unsubscribe at any time. Losing email subscribers also means losing potential revenue. This is why it is crucial to grow your email list as much as possible.
However, it's easier said than done. Building an email list takes strategic planning and ensuring you're utilizing every opportunity to capture email leads. A few ways to grow your email list are:
Using newsletter popups
Offering discounts for signing up on your mailing list
Hosting giveaway events
Adding email subscription to your checkout page
Including newsletter CTAs across your website
For more ways to grow your email list, you can check out our guide to building an email list for e-commerce businesses.
Send notifications for stock/wishlist products
Selling a product that has a high market demand?
You've surely faced the stock-out issue. It happens; some products are just too popular that customers swarm into your store to buy them.
Does that mean you can't do anything about it?
Actually, you can. Adding an Add to Wishlist button to your e-commerce store can easily help you identify if a user has shown interest in a specific product. When the product is back in stock, you can send an email to recover your lost customers!
Ask for reviews
Online reviews are almost as important as word-of-mouth recommendations. 95% of customers read online reviews before making a purchase decision. So you need to acquire as many online reviews as possible.
How do you do that?
Pretty easy, send an email asking them to write a review for a product they have purchased recently! Your engaged customers will surely take their time to write a few words about the product they bought.
If you don't feel confident enough, you can also offer them a discount on their next purchase for taking their time to review your product.
Make use of abandoned cart emails
Today's customers often visit a website, add products to their cart and forget they have even done that. Yes, cart abandonments happen; it's a fact. But that doesn't mean they are lost forever.
Fortunately, most email marketing tools have built-in features to trigger abandoned cart emails. You can use this feature to trigger if a customer doesn't complete their purchase.
While the email can be a simple reminder that they haven't completed their purchase, you can also include a discount coupon or exclude the shipping fee to make it more convincing!
Run re-engagement campaigns
E-commerce customers can become inactive at any point in their lifecycle. While the reason may vary, a little nudge can help you recover at least some of your customers. So, it's ideal to run re-engagement campaigns once in a while.
Re-engagement campaigns are as simple as sending an email enquiring whether an inactive customer would like to keep receiving your emails. However, a comeback offer is an ideal way to lure them back in.
We recommend running a re-engagement campaign every three months for customers who have been inactive for a specific period. You can easily do this through your email marketing platform. Here's an example we've created in FluentCRM:
Track your email performance
Email marketing is tough to crack, but not if you keep monitoring and optimizing your email campaigns. Even if you have mastered the art of email marketing, there will be scopes for improvement. This is why you should never stop tracking your email performance.
Keeping an eye on your email performance metrics will give insight into how your customers engage with your emails and what kind of emails to send. And when you do that, your email campaigns will generate higher sales and ROI.
Use an email marketing automation tool
It takes a lot of time to write a single great email. Therefore, ensuring everything is practically impossible when you also have a business to manage is impossible.
Luckily, it is possible to leverage these tedious tasks into an email marketing automation tool. Most email marketing tools will allow you to build and segment your email list. You can also automate your important e-commerce emails while being both timely and relevant.
Before you choose an email marketing automation tool, check if the features align with your email marketing goal and if it integrates well with your e-commerce platform. If you're using WooCommerce, you can check out our roundup of the best WooCommerce email marketing tools.

Marketing Automation for WordPress
Get FluentCRM Now
8 tips for writing great e-commerce emails
Even the best e-commerce email marketing strategy won't produce results if your emails aren't up to the mark. After all, that's what the users will get.
Ideally, e-commerce emails should be concise and focused on the topic. You need to take a minimalist approach while also using images and text. And most importantly, aim to provide value to your readers. Here are some tips for writing great e-commerce emails.
Set a goal
In most cases, e-commerce customers don't have all day to read an email. So avoid focusing on too many things at once. Focus on achieving one single goal.
For example, if you're running a discount, your only goal should be driving the recipient to your product page, where they can make the purchase.
Write a catchy subject line
A subject line is a difference between an open and trash. Yes, if your subject line isn't attractive, that's where they usually end up.
Your subject line should be catchy enough for the readers. It should indicate what's inside and what the readers can expect. It's also wise to personalize your email subject line and create urgency.
Ensure branding
How would you build a relationship with your customers if they can't identify who you are just by reading your email? Yes, that's where branding comes in.
You'll communicate with your audience through several channels such as websites, blogs, social media, etc. Thus, you need to ensure consistent branding in your emails.
Every email you write should respect your brand voice, tone, writing style, font, and graphics so that whenever someone reads the email, they'll know who you are.
Keep it simple and concise
Once again, e-commerce customers are often too busy to read an email. So make sure you're not wasting their time.
Get to the point instantly, and inform them what you're offering and how it can add value to their lives. Finally, tell them what to do. That should do the trick.
Personalize when necessary
Personalization doesn't just feel more relevant. It also triggers your audience's emotions and tells them that you truly care about them. However, getting too personal can also irritate them.
So while it's ideal to personalize your emails for conversion, know your limits. Use email personalization naturally and write in a conversational tone.
Design for visual appeal
The visual design of your emails could be the second reason the recipients won't read your email. No one likes reading long, boring emails, and that's why you should design your emails for the best visual appeal.
Don't just rely on brand color and graphics to create a visually attractive email. You can also use headings, subheadings, and bulleted lists and break your long paragraphs into shorter ones.
Proofread your email copy
The last thing you can do to harm your brand reputation is —send an email with spelling and grammatical mistakes. Yes, one mistake is enough to prove your business an unprofessional one.
Your email copy should look and sound professional. If you don't spend time proofreading the email copy, you'll ruin your relationship with many customers at once. So make sure to proofread before you hit the send button.
Add a powerful CTA
The Call-to-action or CTA is the most important element of your email copy. It should sound interesting and visually appealing to stand out from the rest of the email body. Use powerful words and design tricks to make your CTA look attractive and drive the readers into clicking on it. And you should achieve your goals quite comfortably!
Start driving more sales with e-commerce email marketing
E-commerce email marketing may seem like a daunting job at first. But it will be worth all the effort and time when you'll start making more sales.
While we have mentioned some of the best e-commerce strategies, you can also come up with your own. So keep exploring the email marketing arena, and don't be afraid to welcome innovative ideas. We wish you all the best!
If you have any particular strategy that works for you, feel free to share them in the comments section. You can also ask any question through the comment box!
Try Our Free Marketing Automation Plugin for WordPress!