12 Proven Strategies to Optimize Your Website for Lead Generation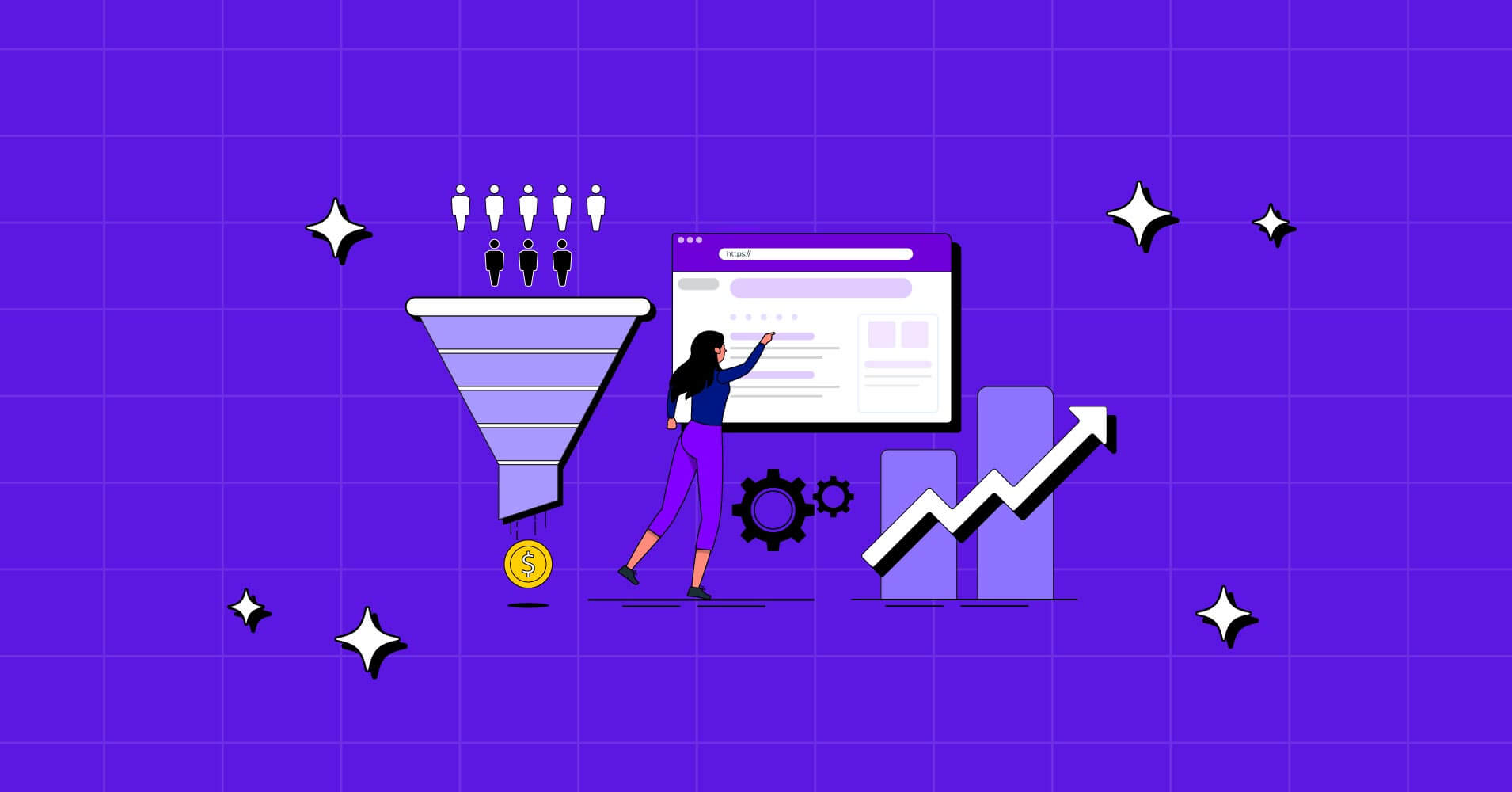 If you're doing everything possible and following all best practices, but still aren't getting the expected results from your lead generation efforts, it's high time to go back to the beginning!
Yes, we're referring to your website, which is where all of your leads end up. It's possible that while trying to connect all the necessary dots, you neglected to prioritize the significance of website optimization for lead generation!
You may have just placed a CTA or a subscription form on your website, thinking that your website's lead generation rule is complete, but it isn't that simple! There are numerous things you need to review and correct and that's what we'll cover in this article.
Let's look at the significance of website optimization for lead generation and how to do it right!
What is a lead generation website?
Lead generation in digital marketing is the process of acquiring potential customers from the vast number of people available on the internet. A lead-generating website is one that makes the process of generating leads easier and acts as a catalyst for generating more leads quickly and effectively.
When we talk about websites you'll think of a variety of websites. In fact, you most likely visit various types of websites every day. If you look closely, you'll notice that each of these websites serves a unique purpose.
Suppose you're visiting an online newspaper website. In this case, the primary purpose of this website is to serve news. Similarly, a government website aims to provide you with various necessary information, such as declarations, laws, and orders.
However, if you take the online business into consideration, you'll realize that such websites serve many purposes beyond serving as a repository of information or a point of presence online.
An online business owner uses his website not only to showcase his products or make sales, but it's also his most powerful weapon for opening the door to enormous upcoming sales. And only a well-designed and well-optimized website can meet this demand.
To summarize, we can say that a lead-generating website is any website that attracts a general web user in the first place, converts them into a lead, wisely controls their purchasing journey, and guides them towards the final stage of the sales funnel where they convert into satisfied paying customers!
The benefits of optimizing your website for lead generation
A website that's optimized for lead generation can be an invaluable resource for any company looking to increase visibility, generate leads, and drive sales. It can assist businesses in more effectively reaching their target audience and achieving their objectives thanks to targeted advertising, simple tracking, and 24/7 accessibility.
Here are the key advantages of optimizing your website for lead generation:
Increased visibility: Having a lead generation website allows potential customers to easily find your business via search engines such as Google. This can lead to increased website traffic and, eventually, more leads.
Read: 8 Tips to Leverage SEO for Lead Generation
Cost-effective: Traditional marketing methods, such as print ads and billboards, can be costly. A lead generation website, on the other hand, will enable you to reach your target audience without spending any money at all.
Easy to track: It is simple to track the number of leads generated and the ROI on your marketing efforts with a lead generation website. This can assist you in making data-driven decisions regarding how to improve your website and generate more leads.
Targeted advertising: With a lead generation website, you can focus your advertising efforts on reaching particular demographics like age and location. This can lead to more qualified leads and a higher conversion rate.
24/7 availability: A website is accessible to potential customers 24 hours a day, seven days a week, which means that you'll be generating those valuable leads even when you're not available. This can result in a consistent flow of leads and sales for your company.
Streamlined process: By making it simple for potential clients to get in touch with you or ask for more information, a lead generation website can simplify the lead generation process. As a result, more qualified leads and a higher conversion rate are possible.
The key elements for optimizing your website for lead generation
Optimizing a website for lead generation takes more work than adding a call to action or a subscription form. There are numerous other factors to consider if you want to get the most out of it.
Here are some of the things you'll need if you want to use your website effectively for lead generation:
Landing Pages: These pages are intended to capture potential leads' attention and provide them with a straightforward and compelling call to action. They should be visually pleasing, simple to navigate, and conversion-optimized.
Lead gen forms: These forms allow visitors to provide their contact information. They should be placed prominently on the landing pages and be easy to fill out.
CTA (Call-To-Action): A simple and enticing call to action is required to convert visitors into leads. It should be prominently displayed on landing pages and other traffic-generating pages, and it should be simple to understand.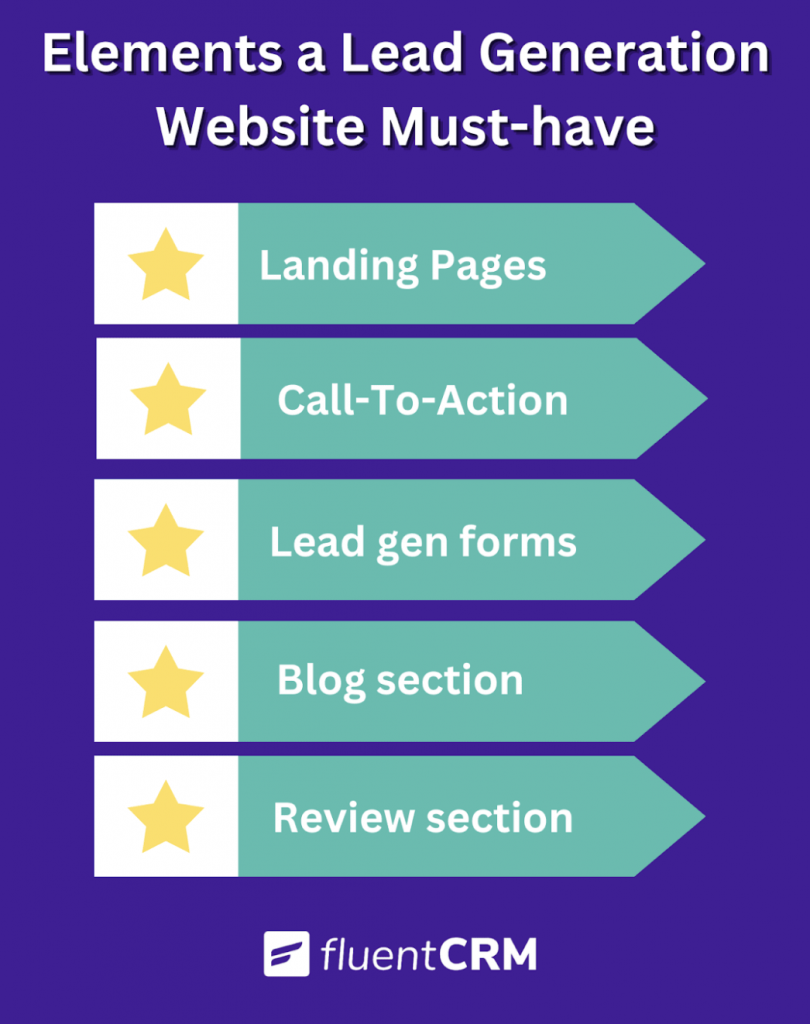 Blog: A blog section is a fantastic way to engage visitors, earn their trust, and position yourself as an expert in your field. If you don't take advantage of the power of a well-designed blog, you'll undoubtedly miss out on a lot of lead generation chances.
Reviews: Reviews are an excellent way to demonstrate to potential leads that you have satisfied customers. It'll assist you in gaining the trust of new customers. So, ask for customer reviews and showcase them on your website. Make sure the reviews are genuine and positive.
By the way, for a creative twist, you can subtly integrate a testimonial slider on your website, letting your happy customer stories glide through and leave a lasting impression on your visitors.
A lead generation website needs a variety of components that work together to draw in potential leads, give them useful information, and make it simple for them to convert. And in order to get the most out of it, you should never downplay any of its significance.
12 tips for optimizing your website for lead generation
Lead generation is important to the success of any business, and having a lead generation-optimized website can make all the difference. In the below section, we'll look at the best practices for optimizing your website for lead generation.
Without further ado, let's get started!
Audit your website regularly
First things first! If you want to optimize your website for lead generation, you must address the existing issues. You can't bring the remedy unless you know what's wrong.
Evaluating the state of a website is an important priority for any digital marketer, and it's an ongoing process. Without it, you'll be unable to determine the true cause of the problem.
You can get help from tools like Google Pagespeed Insights, Ahrefs, SEMrush, and others. Determine which web pages are working properly and which need to be updated. You'll discover a lot of useless content that's just slowing down your website.
Consider removing them or arranging them differently. The more precisely you can identify the problem, the better your chances of success are. Here is a quick checklist that you can use to audit your website:
Use a site audit tool to check the URL of your website for technical and SEO issues
Keep the needs of mobile users in mind as you analyze the design and UX
Perform a thorough evaluation of your website's existing pages and posts
Make a list of all the problems you encountered and decide how you'll handle them
What is the recommended frequency for website audits?
Website auditing is something that every digital marketer must do on a regular basis. We recommend doing it at least twice a month.
Improve your website loading time
There is no room for ignoring the significance of website loading time when it comes to website optimization. It's more than just a number; it is the most important factor that determines how a visitor perceives your website in the first place.
Not only that, but the time it takes for your website to load has an impact on its search engine ranking. Slow page load times will harm your website's ranking and increase bounce rates.
In contrast, if your website loads quickly enough to provide your target audience with an excellent user experience, your SERP ranking will improve.
So, prioritize website loading and audit your website's speed on a regular basis. There are numerous tools available to assist you in this endeavor. Google Chrome DevTools can be a valuable resource in this regard.
Here are a few quick suggestions to help your website load faster:
Use a performance-optimized hosting provider
Compress and optimize each image that you upload to your website. For even better optimization, serve images in WebP format
Minify your CSS and JavaScript files
Remove any unnecessary redirects from your site
Attempt to limit the amount of HTTP requests
Enable caching on your website
If you're using too many plugins, consider removing those you don't need
Remember, when it comes to website speed, every second counts! As a result, even minor improvements can have a significant impact!
Optimize your UX for mobile devices
Most website owners make mistakes here. While adding a lot of extra information, they frequently forget about mobile users. Your top priority should be mobile users because they make up the majority of all users who browse the web.
As a result, when designing a website, keep mobile users in mind at all times.
In addition to desktop-compatible websites, optimizing a website for a mobile device raises a whole new set of factors to take into account. Here are some important things to remember:
In general, people create websites for desktop computers and then optimize them for mobile devices. However, to make the most of a website as a lead generation channel, prioritize mobile users.
Choose an image size that is quickly responsive for mobile devices and takes a little time to load
Maintain as much simplicity as possible in your design
Keep screen size in mind when designing because people use different screen sizes of devices
Keep in mind that, while the appearance and look of a website are important, leaving your mobile viewers in the dark isn't a good idea. Keep mobile device users at the top of your list and you'll see a flood of new leads.
Design an attractive landing page
A landing page is a separate web page that is particularly designed to drive conversions. Visitors usually end up on your landing pages because that's where you drive them through your marketing efforts such as SEO, advertisement, or social media marketing.
The goal of a landing page is to gather leads by getting users to fill out forms or perform other desired actions, like making purchases or subscribing to newsletters. In fact, it serves as the entry point for lead generation.
You can increase conversions and produce more leads for your company with the aid of a well-designed landing page that is highly targeted and relevant. On the other hand, a poorly-crafted landing page that is irrelevant or confusing may generate a low number of leads and have a high bounce rate.
So, your landing page should be highly targeted and relevant to the ad or link on which the visitor clicked. Furthermore, the page should be designed to reduce distractions and encourage visitors to take the desired action!
Here are some important considerations to make when creating a landing page –
The headline, images, and overall layout of the page should all convey the purpose and objective of your landing page
Ensure that your call-to-action buttons are clearly visible
Use eye-catching images and videos to instantly capture the audience's attention
Regularly conduct A/B tests and page optimization
Preserve the page's mobile friendliness
Regularly add new content to the page
Keep the design consistent to establish a sense of continuity and make it simpler for visitors to navigate your site
Landing pages serve as the central hub of the lead generation process and are essential to the campaign's success. So, never underestimate its significance.
Utilize the power of CTAs
CTAs are buttons or links on your website that encourage visitors to do something specific, such as sign up for a free trial or download a whitepaper. It is yet another weapon that will transform your website into an excellent lead generation channel, allowing you to increase conversions and expand your customer base.
To get the most out of it and effectively leverage the power of CTAs, you must first understand their importance and how to use them correctly. Most people mistakenly believe that placing a CTA on the landing page will complete their task and that it will lead directly to a sale. However, the reality is quite the opposite.
People generally dislike sales pitches and may disregard an immediate call to purchase. That is why we recommend using a series of CTAs to guide your leads through their purchasing journey and eventually convert them into paying customers.
Here are some quick tips to consider when placing a CTA on your website:
Your CTAs should contain a strong, action-oriented message(e.g. Sign up now, Download for free, Get started today.)
CTAs should be prominently displayed on your website, such as in the header or above the fold on the homepage
Make your CTAs clear and simple to understand. Avoid using jargon or complicated language
Play around with different colors and design elements to make your CTAs pop off the page
Use A/B testing and make the necessary adjustments to find out which CTAs on your website works the best,
In conclusion, a strong CTA is essential for generating conversions and producing the desired effects. It directs visitors to the desired action, whether it's making a purchase or subscribing to a newsletter. Your marketing campaigns may succeed or fail entirely depending on how well-designed your CTA is!
Improve each stage of the lead generation process
Lead generation is a well-decorated process, and if you wish to make the most of it, you must optimize each phase of the process. Here are some suggestions for improving each stage of a website's lead-generation process:
Traffic generation
Utilize meta tags, keywords, and other SEO strategies to make your website search engine-friendly
Use social media and other digital marketing channels to drive traffic to your website
Produce compelling and high-quality SEO-friendly content to draw users to your website and keep them there
Lead capture
Create compelling calls-to-action (CTAs) that persuade visitors to give you their contact information by, for example, signing up for your email newsletter or submitting a contact form
Make use of lead magnets, such as webinars, white papers, and ebooks, to persuade visitors to give their contact information
Ensure that your contact forms and lead capture forms are easily accessible, simple to fill out, and prominently displayed on your website
Lead qualification
Determine which leads have the highest likelihood of becoming paying customers
Determine your leads' level of engagement
Employ a marketing automation tool to make the lead qualification procedure more efficient and streamlined

Marketing automation for WordPress
Get FluentCRM Now
Lead nurturing
Develop relationships with leads by sending out targeted and personalized email campaigns
Use drip marketing and lead nurturing campaigns to keep leads engaged
Each of the stages we discussed is important because it builds on the previous one, and skipping or ignoring any stage can result in lower conversion rates and fewer paying customers. Give this article a read if you need some more tips on lead generation.
Add subscription forms
Including subscription forms on your website is the most efficient and effective way to generate leads and expand your customer base. By obtaining visitors' contact information, you can use it to connect with them through email marketing, retargeting campaigns, and other marketing initiatives.
Here are some pointers on how to effectively utilize subscription forms on your website:
Make it easy to find: The first step in encouraging visitors to join your email list is to create a form easily accessible. Place it prominently, such as at the top of your homepage or at the bottom of each page, so that visitors can find it conveniently and quickly.
Keep it simple: Avoid requesting too much information, as this may deter visitors from signing up. Just include the bare minimum, like name and email address, etc.
Offer an incentive: Think about providing a free resource or guide as an inducement for visitors to join your email list.
Test and optimize: To determine which version of your subscription form generates the most leads, test different versions. Look for ways to improve the form by changing the placement, wording, or design.
Read: How to Add Email Subscriptions to WordPress
Create a blog section for your website
Adding a blog section to your website is an excellent way to generate leads and boost your online presence. It lets you share informative content with your readers and position yourself as an authority in your field. This will result in more credibility and trust in the long run —resulting in more sales and conversions.
When building a blog section for your website, one of the most crucial factors to take into account is the kind of content you'll be sharing. It is critical to ensure that your content is both relevant and valuable to your intended audience. This can be accomplished by conducting keyword research and comprehending the needs and problems of your audience.
Another critical aspect of developing a blog section for your website is making the blog easy to navigate and user-friendly. Additionally, you should make sure that the blog is search engine optimized so that readers can find your articles quickly.
To increase the effectiveness of your blog section as a lead generation channel, make it simple for your readers to contact you or learn more about your company. A contact form on the blog page and a clear call-to-action at the end of each article can help with this.
Read our article on using content marketing for lead generation for more insights
Create a live chat feature for your website
For a variety of reasons, having a live chat feature on your lead generation website is critical. First of all, it enables quick communication with potential leads, which is helpful for making decisions. According to the research, 46% of customers prefer live chat, 29% prefer email, and 16% prefer social media.
Furthermore, live chat adds a personal touch that can set your company apart from the competition. It enables potential leads to communicate directly with a human rather than just a website, which can aid in the development of trust and the establishment of a connection.
Furthermore, because your customers have the opportunity to speak with you directly and quickly, their overall satisfaction level rises.
However, in order to effectively use a live chat feature for lead generation, you must have a clear call-to-action (CTA) and an engagement strategy. This can involve sending out chat invitations in advance, sending out custom greetings, and setting up a special team to manage the chats.
Additionally, it is also important to have a system in place for capturing leads and following up with them after the chat.
Make an irresistible offer
Lead generation is an important part of any company's marketing strategy, and one efficient approach to do so is to provide something of value to your website. This could be a free download, a discount, or a newsletter subscription.
You can successfully generate leads and expand your business with the right strategy and a worthwhile offering. Giving your potential customers something of value helps you to win their trust and develop a relationship with them, both of which can increase conversions and revenue.
However, you should make sure that these offerings are specifically pertinent to your target audience. For example, if your company sells health supplements, a free eBook on healthy living may be more effective than a clothing discount.
Furthermore, ensure that the offering is easy to find and access on your website. A prominent call-to-action button or link can assist in directing visitors to the offer and motivating them to benefit from it.
Another important aspect of creating an effective offering is being open about the information you're gathering and how it will be used. Include a privacy statement that explains how the email address or other contact information provided will be used.
Along with that, don't forget to send your leads personalized follow-up emails and offers that are catered to their interests!
Showcase your reviews
Displaying reviews on your website can be a powerful way to increase lead generation for your company. Reviews increase conversion rates, foster customer confidence, and help your business expand over time.
Positive customer feedback can act as social proof, giving prospective buyers the assurance they need to make a purchase. When prospective customers learn that other people have enjoyed your good or service, they are more likely to believe in your company and be more likely to buy from you.
Customer reviews can also help build credibility for your brand. Reviews from pleased customers can show how valuable and high-quality your goods or services are. They can also aid in establishing your brand's credibility and authority.
By utilizing a plugin like WPSocialNinja, you can showcase reviews on your website with ease. This WordPress plugin lets you import and display reviews from a variety of sources, including Google, Facebook, Instagram, and others. When it comes to collecting and displaying customer reviews, this can save you time and effort.
Take care of your leads
Remember, collecting leads isn't the end goal, and there are several distinctions between a lead a prospect, and a potential client. As a result, taking care of your leads is a critical task that you should prioritize if you want to maximize the effectiveness of your marketing efforts.
Email marketing is a critical component of taking care of the leads generated by your website. It is an excellent way to stay in touch with and engage your leads.
To send newsletters, updates, and special offers to your leads, you can use a marketing automation plugin like FluentCRM. This will keep you in front of your leads' minds and encourage them to return to your website.

Marketing automation for WordPress
Get FluentCRM Now
Creating useful content is another way to manage the leads you receive from your website. This can include informative and relevant blog posts, infographics, and videos for your target audience.
Besides, it is important to have a clear and simple contact form on your website. This makes it easier for your leads to contact you and allows you to stay in touch with them. Ensure that you provide prompt, illuminating responses to all questions.
Wrapping up
Website lead generation optimization is essential for any company looking to grow and advance. By incorporating best practices such as calls-to-action, optimizing your landing pages, and utilizing analytics, you can effectively increase your website's conversion rate and generate more leads.
We attempted to shed light on some best practices for optimizing your website for lead generation in this article. We hope that by following these steps, you can ensure that your website is optimized for lead generation and begin seeing the desired results.
We'd love to hear from you; please leave your questions and comments in the box below. Have a wonderful day!