Free Tips, News & Tutorials Delivered to Your Inbox!
In this competitive market, a website itself isn't enough to get sufficient engagement for the website, let alone for your business. But using the right tools can turn the tables for your website. While you may not know about the tools, your competitors are using them already and getting an edge over you. 
So in this blog, we'll go over the best website engagement tools you must use for your website in order to get the best engagement from your users.
Why is engagement important for a website?
The sole purpose of having a website is to build credibility and boost engagement in your business. But that purpose can never be served if the website isn't optimized for engagement in the first place. The more engagement your website gets, the more people will learn about what you do. Which will help with:
Making more sales and retaining more customers
Better word-of-mouth marketing
Increasing the credibility of your business
Enhancing the overall search engine performance of your website
Creating opportunities for other passive incomes
Things website engagement tools can help with
Whether you are going to get regular website engagement or not depends on many factors. Needless to say, things like relevant content and bespoke visuals are something that will require a human touch. But apart from these, pretty much all the other factors can be accomplished using different tools. Let's look at the most important ones:
Lead capturing
The prime goal of using website engagement tools is to optimize your website for lead generation. Being able to capture more leads than others is a clear indication that you are getting solid engagement on your website.
Remember, if you don't run the process automatically, your competitor will steal your leads, leaving you with less engagement on your website.
There are many lead-capturing tools available on the internet. You can use opt-in form builders, pop-up builders, landing page builders, and whatnot. And we'll introduce you to all the best tools in the respective fields of capturing leads.
Increasing page loading time
If you are not getting the optimal website engagement despite your best efforts, your page loading time may be the issue. Oftentimes, people leave a website instantly if the loading time is a tad bit high. That's why you need to use tools that will make your website loading speed lightning fast.
Note that, page loading time is not something that depends on a single element. You might need to use a few tools to ensure the fastest loading time for your website. Cache cleaning tools, plugins, widget maintenance tools, etc are some of the tools that can help with this cause.
Enhancing SEO optimization
You can't possibly think of getting engagement on your website if people can't find you on the search results. This is where SEO comes in. Though SEO is entirely about using tools, you can't overlook the importance of SEO tools for your website.
SEO tools won't only increase the overall SEO performance of your website, but also help by minimizing your research effort. Altogether, you'll be more effective and more efficient. Rankmath, and SEOPress, are some of the most helpful SEO tools which we will discuss in detail.
Take a look at how SEO aids lead generation
Automating email marketing
Email marketing is without a doubt the most essential way of bringing more engagement to any website. You can literally ask people personally to engage with what you are offering. But obviously, you can't do that manually. That's where email marketing tools come in.
Though there are lots of options out there, we'll introduce you to the best one. Which will cost you less money and provide the highest amount of features.
Discover the importance of email marketing
Analytics
If something can't be measured, you can't really tell if you are on the right or wrong track. And if you are to track different metrics of your website manually, you won't have time to do anything else.
However, a good analytics tool can get your job done within a few hours. Not just that, analytics software provides you with insights about what should be your next move. As a result, making data-driven decisions gets way easier.
Maintaining social media
Say your social media presence is very happening and without a doubt, it's a great tool for gaining credibility. But if you aren't showcasing your social handles on your website, you are just misusing a game-changing player.
We understand the possible reason behind this act! Possibly you don't have time, or maybe you don't know how. And that's what a social media plugin can help you with. Such plugins will let you share social media posts with just a few clicks, and also provide other functionalities as well.
Things to consider before choosing a website engagement tool
Sure, website engagement tools are important, but guess what's more important? —Knowing how to select the perfect tool!
That's why you must take these crucial aspects into account when choosing a website engagement tool:
User interface: The tool must be simple to use and have an intuitive layout
Options for customization: The tool should let you alter the interaction elements' visual and tactile appearance to match the layout of your website
Options for integration: The tool should be simple to connect to your website and other marketing applications you use
Analytics and monitoring: The platform must offer thorough analytics and track engagement metrics including click-through rates, conversion rates, and visitor behavior
Customer service: The tool should offer helpful customer service to assist you with any inquiries or problems you might encounter
Price: The tool's pricing scheme should be reasonable and provide good value for the capabilities and services provided
Security: To protect sensitive data and information, the tool should have strong security mechanisms in place
Privacy of user data: The tool must adhere to all applicable privacy laws and rules, such as the GDPR and CAN-SPAM ACT, and must be open and honest about how user data is gathered and utilized
Scalability: As your firm expands, the tool should be scalable to accommodate its changing needs
User feedback: To evaluate the efficiency and dependability of the tool, take a look at user reviews and ratings
Website Engagement tools: A comprehensive checklist
Now that we've established that engagement on a website doesn't depend on a factor or two, we'll go over the best tools for each sector. Starting from capturing leads to running a full-fledged marketing campaign, there are tools available for every cause.
So let's jump into the list of tools that are going to take your business to the next stage by increasing engagement on your website.
Fluent Forms for capturing leads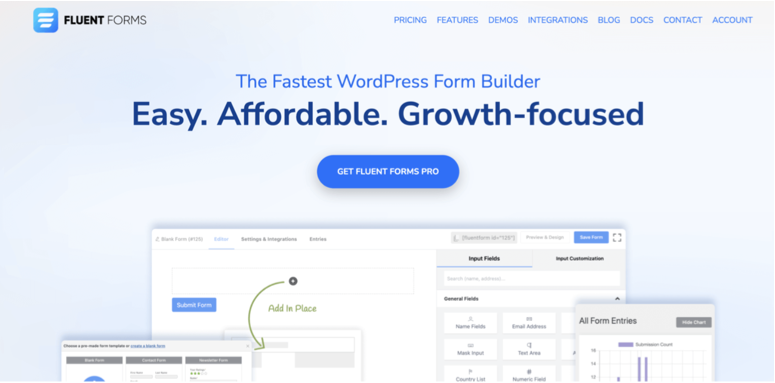 If you want to turn a visitor into a lead, the first thing you need is their information. And that's what Fluent Forms help you with. It is a form builder plugin that helps you build any kind of form. Using Fluent Forms, you can build and design all sorts of forms to turn your website visitors into leads.
Even complex and advanced functionalities like quiz modules, payment options, signatures, logic, etc can be used to build a form as well. Regardless of how complex of a form you are building, it all gets easier with the drag-and-drop form builder feature. And to make things better, 70+ pre-built templates come along with this plugin.
You can even integrate this plugin with other popular plugins like Zapier, Active Campaign, Campaign Monitor, ConstantContact, Hubspot, SendinBlue, FluentCRM, etc, and handle the marketing campaigns effortlessly.
A few more notable features of Fluent Forms are:
Easy interface
Drag and drop option included
Conditional logic and confirmation message
Transformable templates
Advanced calculation
Form submission can be restricted and scheduled
33+ input fields and 60+ pre-built templates
You can use Fluent Forms for free with most of the features. Paid plans start from $59 with some advanced features.
Honorary Mentions
Using forms is obviously not the only way of capturing leads. There are undoubtedly other tools that can help you with lead generation. Here are a few other tools to boost lead generation:
Ninja Forms: You can start using this lead generation tool for free, the paid plans start from only $49 per year.
ConvertPro: This plugin is also available for free, and to get the advanced features, you'll have to pay $87 per year.
Optinmonster: This amazing marketing toolkit can be a great addition to any website. The paid plans start from $16 per month. There's a free version of this tool available as well.
WP Rocket for increasing the page loading time
A website owner often does all the things but forgets about cleaning the cache. Though it may not seem important, it is detrimental enough to make your website slow as ever. But WP Rocket is there to save your business from the bad impression of a slow website.
WP Rocket is a cache plugin dedicated to WordPress websites. And you won't have to do much after installing the website, the automatic optimization features will do the most for you. To be precise, this plugin applies nearly 80% of necessary optimizations right away after the installation on its own.
You might find the following features helpful as well:
Static HTML cache for desktop and mobile devices
Browser caching for specific file types on visitor computers (available on Apache servers)
Cross-Origin support for web fonts on Apache
Detection and compatibility with various plugins, themes, and hosting platforms
Integration of inline and external scripts
Cache for refreshing cart fragments in WooCommerce
You can start enjoying all these features only by spending $59/Year.
Honorary Mentions
Cleaning caches will surely make your website faster, but there are a few more aspects that you should also consider. If you don't take care of these, you might not get the optimal page speed that your audiences would have loved.
That's why you can use:
Tinypng: This is a free online tool that'll reduce the image size for you, resulting in higher page speed. Though it's a free service, you might have to buy the pro version if you want to reduce image size in bulk. The price plans start from only $25/year.
Pingdom Speed Test: This is a free page speed analyzing tool that you can enjoy for free. By simply putting your website URL in their web speed test, you can get a detailed report on why your website is slow. It'll also show you the areas where you can bring improvements.
FluentCRM for email marketing
Email marketing is undoubtedly the most effective marketing channel to increase engagement on someone's website. While sending tens and thousands of emails may seem hectic, FluentCRM makes it easier for any website owner. This is an email marketing automation tool that not only helps you with automating emails but also works as a complete CRM solution.
FluentCRM can help boost your website engagement through the following features:
Automation funnel to send emails automatically even when you are sleeping. This feature will make sure that your customers don't miss a single update.
Complete overview of each and every subscriber of your website, helping you develop personalized emails for them.
Email builder to help you create visually appealing emails with bespoke designs.
Last but not least, integration facilities with other popular tools to enhance your overall marketing game
Despite having all these features, FluentCRM is surprisingly cheap. You can even enjoy a free version of this plugin. And the paid plans start from only $129/Year.
Honorary Mentions
Given how big the email marketing world is, no wonder there are tons of tools available for making email marketing easy. Some of the following tools are worth mentioning:
Hubspot: This name comes up in almost any digital marketing effort you talk about. Their tool works as a CRM, lead generator, and obviously for email marketing. Though there's a free plan available, most of the features are available in the marketing hub, which is a bit expensive to start with.
Sendinblue: It is undoubtedly one of the most popular names in the email marketing industry. Though it has a free plan, most of the exciting features come with the paid plans. Prices are comparatively higher, starting at $25/month.
AWeber: Just another widely used email marketing tool that guarantees user engagement for any website. They offer both free and paid plans, starting from $15/month. But, it's limited to only 500 subscribers.
Yoast SEO For SEO optimization
With its huge variety of SEO functions, Yoast SEO is regarded as the best WordPress SEO plugin. You can quickly assess the readability of your content with Yoast, and you can define canonical URLs to avoid duplicate content problems with Google. The plugin also offers the option to preview your pages on Google, Facebook, and Twitter, as well as keyword optimization.
The price version of Yoast offers recommendations for internal linking while you develop your pages and posts for even more support. Additionally, the plugin has a substantial knowledge library to assist you in getting started. If you choose the premium version, you'll have access to a specialized support team that is available around the clock for an entire year.
Some of the notable features of this plugin are:
It targets specific keywords in your content for optimization purposes.
Ensures that the search engines have the necessary metadata to comprehend your content
Prevent duplicate content from appearing on your website
Automate crucial SEO tasks like generating a sitemap and enhancing permalinks
You can get started with this plugin for free by downloading it from the wordpress.org website. And the paid plans start from $99/ Year.
Honorary Mentions
If the price of Yoast SEO seems a bit much to you, there are other options as well. And we are not just talking about some cheap alternatives, they are also very feature packed.
SEO Press: It has just the features that you would expect from Yoast SEO, and lucky for you, the price is comparatively less. The paid plans start from only $49/year, and there's a free version available as well.
Ahrefs: When it comes to keyword research or maybe researching your competitor's website, Ahrefs is hands down the best tool. Though they offer a few features for free, most of the useful features are paid. And the price plans start from $99 per month.
SEMRush: This is another tool for keyword research and planning to take content marketing for your website to another level. Like the previous tool, it does not offer much with the free plan as well. And to enjoy the paid plans, you'll have to spend $120/month.
Google Analytics for performance analysis
Google Analytics is the preeminent platform for website analysis, utilized by over 30 million active websites. Its capabilities extend far beyond just tracking website traffic; providing businesses with a comprehensive view of their customer engagement and behavior.
By utilizing Google Analytics, businesses can make informed decisions to improve their online presence and increase engagement with their customers.
Here are some of its key features:
Offers both free and paid options, with a free plan for small and medium enterprises and a paid premium version, Google Analytics 360, for larger enterprises
Utilizes advanced machine learning algorithms to identify users most likely to convert and provide valuable insights
Offers a wide range of data manipulation options including funnel analysis, segmentation, and dashboard monitoring
Provides a complete view of customer engagement to inform decisions for improving online presence
Honorary Mentions
MonsterInsights: People who are familiar with Google Analytics and WordPress will find this tool super helpful. You can use this tool for free and there are paid plans available as well, starting from $199/Year.
Matomo: This can be a great alternative to Google Analytics and comparatively cheaper as well. You can start using this analytics tool for only $23/month.
Hotjar: This software can help you manage all your social media accounts from one platform. This helps you to drive better website engagement with minimal effort as you can see in the detailed insights as well. And you can start using this tool for free. The plus plan starts from only $32/month.
SureTriggers for automation
Let's talk about automating everything on your website.
SureTriggers is a great automation platform that has SaaS-based platform from where you can connect all your applications together and it also has a WordPress plugin that will help you connect multiple websites and plugins with ease.
It is similar to how Zapier works but more useful and capable as it has deep integration with WordPress and is cost-effective. You can set up various triggers and actions that will follow once any set trigger is performed.
Here's how WooCommerce, CRM, and email tools integration can work with SureTriggers:
For example, suppose you have a WooCommerce Store. With the help of WooCommerce integration, If someone purchases a product from your WooCommerce store:
It will transfer the data to the Google Sheets for record
Send the data to a CRM like HubSpot where it will create or update the user based on the purchase that was made
It will then send the data to an email marketing tool like MailChimp or ActiveCampaign that will send personalized emails and updates to that user
You can also set up email automation campaigns which will send emails to the user in a certain time interval
Lastly, it will send a notification to you and to your customers on WhatsApp about the purchase
This is just a simple example and the possibilities are endless when it comes to automating things on your website.
Moreover, if you are a content creator, you just have to add a topic idea to your Google Sheet or Notion and it will automatically create an SEO article with the help of ChatGPT integration and publish the content on your website. Furthermore, it will send automatic emails with the new article link to your subscribers. Isn't that wonderful?
It will do everything for you automatically without the need for your intervention.
You can create hundreds and thousands of custom workflows by connecting any number of applications with each other and let SureTriggers take care of the rest.
SureTriggers will help you automate everything right from lead generation to content creation and from selling your first product to many cross-sells and up-sells.
A few notable features of SureTriggers:
Automate anything on your website
Share automation workflow recipes with your friends
Easy to understand drag and drop builder
Hundreds of apps to integrate
Advaced filters to segment the data as you like
You can use SureTriggers for free with most of the features. Paid plans start from $9/ month with more tasks and many advanced features.
Honorary Mentions:
Certainly, there are other tools that can help you with automation but all of them lack some or the other features.
WP Fusion: The nearest tool to SureTriggers and it has a wonderful development team who work round the clock to implement new features and apps. However, there's no free version.
Zapier: The pricing is exorbitant for starters and the learning curve is high. You can start for free with basic features but will have to update to use most of the useful features. The plan starts at $19.99/ month.
Make: It's a great tool when it comes to automating things on SaaS applications but does not go well with WordPress. Free to get started with pricing starting at $9/ month.
WP Social Ninja for boosting social media engagement
Your social media marketing efforts will be made easier with the help of WP Social Ninja, a complete social media tool. This plugin is essential for individuals who manage WordPress websites because it allows you to gather, manage, and display social network feeds and reviews on your website.
The ability to integrate WP Social Ninja with over 29 social media networks gives you the ability to increase engagement and broaden your audience.
WP Social Ninja is the top WordPress social networking plugin available right now in terms of features. It is an all-in-one solution for all of your social networking demands thanks to its extensive features.
Pre-built templates to embed social feeds (Twitter, Facebook, Instagram & YouTube) with stylish layouts and various feed types
Customizable social reviews with various styles and layout options
Manages communication channels through Messenger, WhatsApp, Telegram, and more than 15+ popular social apps with a chatbox
Notification Popup feature to grab users' attention and connect with them instantly
Customizable testimonials to display social proof
Export/Import business reviews through CSV files
Manual syncing option to display real-time reviews
In-depth template styling, including custom CSS without external addons or coding
Shoppable Feed feature for e-commerce businesses to upgrade their website with shoppable functionality that connects with other e-commerce platforms
There's a free version of this plugin available on wordpress.org. And in case you want to get the most out of this amazing tool, the paid plans start from only $89 a year.
Honorary Mentions
Smash Balloon: This tool is just like WPSN but a whole lot more expensive. To get the most out of this tool, you'll have to pay almost $600/Year.
Spotlight: If most of your marketing is done on Instagram, and you need a tool to bring that engagement to your website, Spotlight is the tool for you. And this tool is very cheap as well. It'll cost you only $39/per year.
Wrapping Up
At the end of the day, we can't emphasize enough the importance of website engagement. We hope you'll find these tools super helpful in order to get the most desired engagement on your website. Don't forget to let us know if any tool is bringing magical results for you.
Try Our Free Marketing Automation Plugin for WordPress!