12 Types of Email Marketing Campaigns Every Business Should Use
Email marketing is undoubtedly the most effective marketing method there is. Because of its professional appeal, most brands are fully embracing email marketing as their main marketing channel.
However, many businesses fail to utilize email marketing at its full potential because they lack an understanding of the variety of marketing email types. And you can only unlock the full potentiality of marketing emails by introducing a variety of email types in your email campaigns.
In this blog, we're gonna discuss all the types of email marketing campaigns that you should be implementing right now. Read this article to learn about each of them and to determine your best approach.
So, let's get into it!
12 types of email marketing campaigns
There are many ways to reach your leads, prospects, and new customers with emails. Different types of emails yield different results. And a perfect email marketing strategy is a mix or hybrid of different types of marketing emails. Let's dive into the various marketing email types!
Welcome email series
In the early stages of a customer's journey, very few people are sales-ready. Introducing a product or a service at that stage is a bad practice in email marketing. Whether it's a friend or your new email subscriber, first impressions matter a lot. And the welcome email series does just that.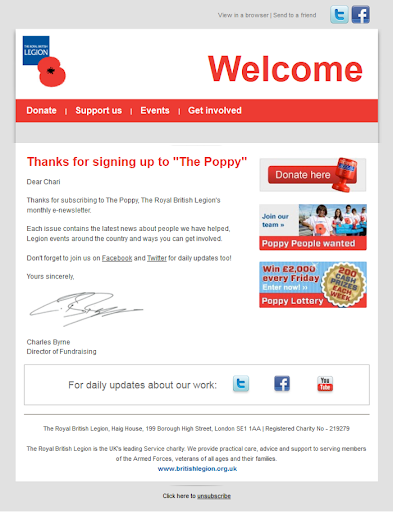 Welcome emails can be used to initiate the relationship between you and your prospects. If you want your first impression to be a positive one, you need to introduce your prospects to your business through a series of emails.
Welcome emails also show a better open rate and click-through rate when you add some personal touch to them. This presents a good opportunity to educate your prospects about your business along with the chance to learn more about your prospects with welcome emails.
Ask your prospects about their pain points, their preferences, and about the things that'll benefit them. This'll build up a positive relationship with your prospects which might result in some of the prospects turning into loyal customers!
Build up a positive relationship with your prospects, introduce your brand to them, and tell them how you can help solve their problem. The welcome email should focus on showcasing your expertise in the given matter and thus, make you the obvious choice when people need any assistance in the given niche.
Email newsletter
Newsletters generally consist of various business information, articles, and relevant graphics. It can be compared to physical digest or magazines. Just like a digest, newsletters are sent to the people who subscribed to receive them.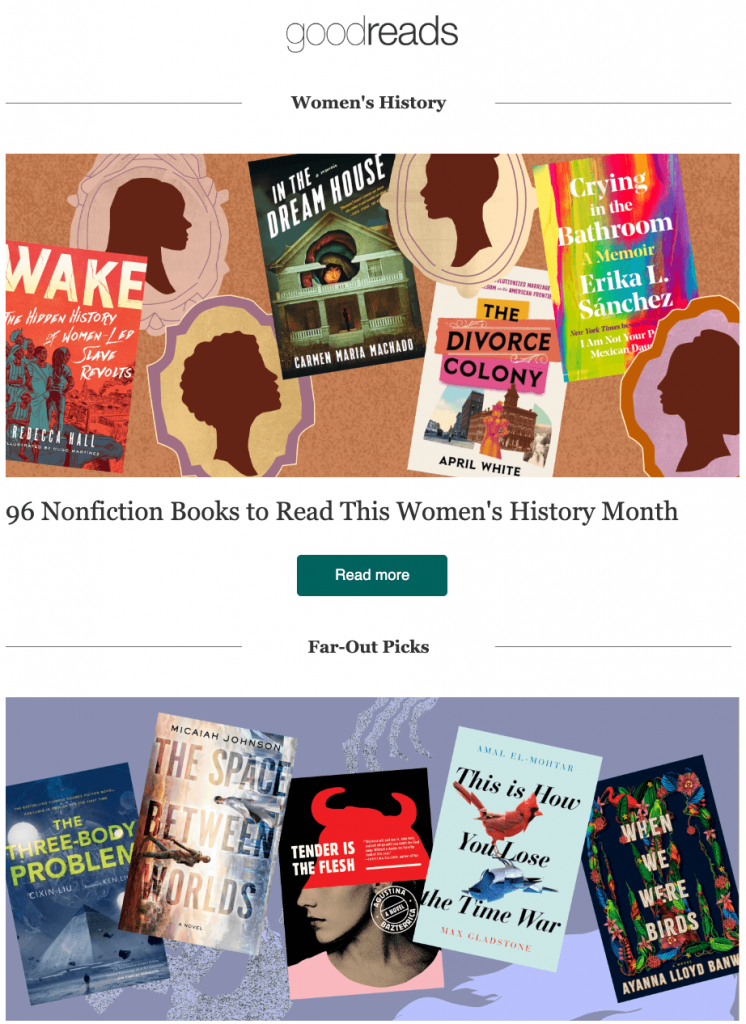 Email newsletters are used by businesses of all sorts to stay relevant and on top of the mind of their users and subscribers at all times. Also, email newsletters are extremely versatile in nature. That's why email newsletters can be tailored to your own business needs.
Here are some best practices to follow in email newsletters:
Write a steller subject line: The subject line is the first thing that the recipients see in an email. So, write a catchy subject line that compels your subscribers to check out the inner content.
Send the newsletters in regular intervals: Maintaining regularity and following the email sending best practices should be your first priority while sending out newsletters. This ensures your place at the top of your subscriber's minds as a brand and makes you the prime choice while they make their purchase decision.
Put genuinely helpful content in the newsletter: It might be tempting to overcrowd your newsletter with your marketing messages. But, you should only put helpful content that relieves one or multiple of your user's pain points without giving in to the temptation of forced marketing.
Make use of a CRM for sending and tracking metrics: You need to measure various email marketing KPIs to measure the success of your newsletter. And this is only possible by integrating a marketing CRM which will not only track the metrics but also make it easier to manage your email campaigns.
Place CTAs and graphics strategically: Write up a headline for the images you use in the newsletters instead of a brief summary or introduction. And finally, embed a CTA so the recipients can read more!
Automated emails
Automated emails, also known as triggered emails and kickback emails, are emails that are sent to customers upon performing a specific action on your website or social media handles.
Automated emails are most sent and they are also the ones that generate the most revenue. According to DMA, over 75% of email revenue is generated through triggered campaigns.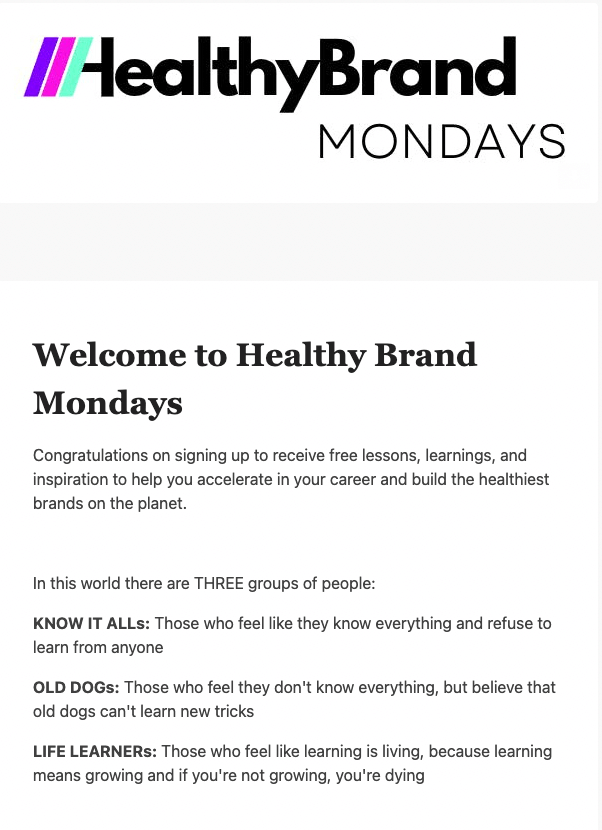 There could be an array of different scenarios which can trigger these drip campaigns, such as:
When a recipient clicks on a CTA on one of your promotional emails.
When a customer put something in their cart and then abandons it without making the final purchase.
When a prospect interacts with your site by downloading, reading, or clicking your content.
When a customer or a prospect responds to a survey or a questionnaire.
In one way or another, the customer's interaction "triggers" their inclusion in the automated email campaign.
Though the key is to determine when to send it, the success of triggered campaigns relies on how you actually send it. A customer relationship management (CRM) software like FluentCRM can help you set up the perfect triggered email campaigns.

Marketing automation for WordPress
Get FluentCRM Now
The triggers might vary from business to business. Once you set up the triggers, the automated emails follow their own pace —freeing time for your other business endeavors.
Content announcement emails
A content announcement email is the kind of email through which you send out the news on your new content, product, sale, coupon, webinar, conference, eBook, free trial, etc. These targeted emails are an effective way of promoting your marketing offers.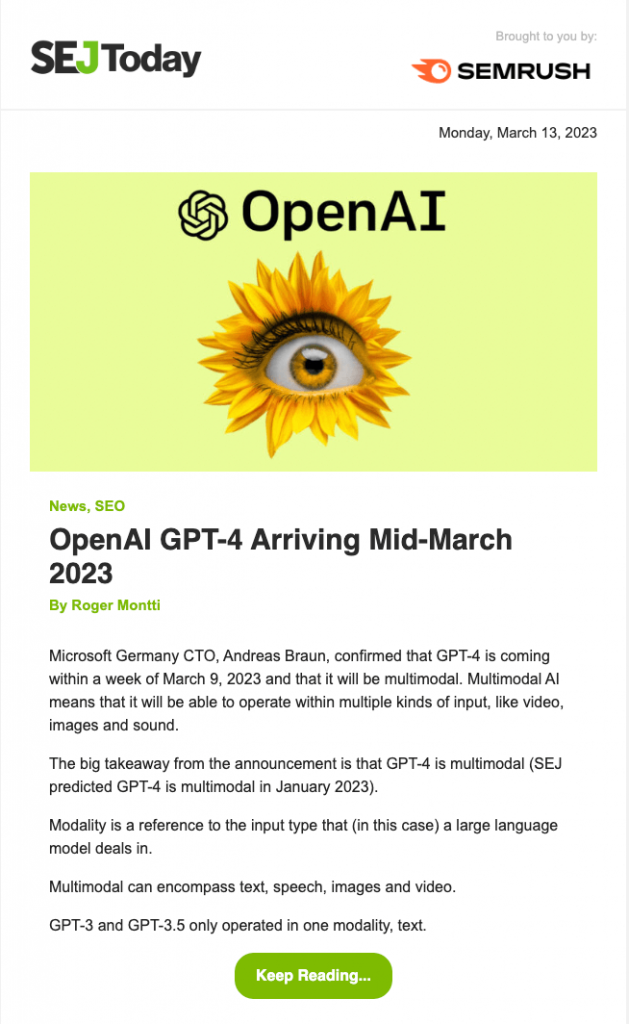 When designing an email for a specific offer or spreading content, the main component to highlight is the offer and the content itself. To elevate its effectiveness further, the content announcement email should contain a clear call-to-action that links to the landing page designed for the specific offer.
Make sure to describe the offers in precise words in the email copy and embed a prominent CTA with an eye-catching, clear, and easy-to-click link using actionable language that entices the recipient. An actionable CTA further emphasizes the action you want the readers to take.
Spread the news about your new products, sales, webinars, and more with a content announcement email. Your primary goal should be to drive your customers to the designated landing page. This is why you need to keep the email brief and emphasize the CTA to increase click-through rates.
Product update emails
Product update emails are simply emails that contain information and sometimes even instructions about how a new feature works. The sole reason for sending these emails is to keep your customers informed and up-to-date about each of the new features you add to your digital product.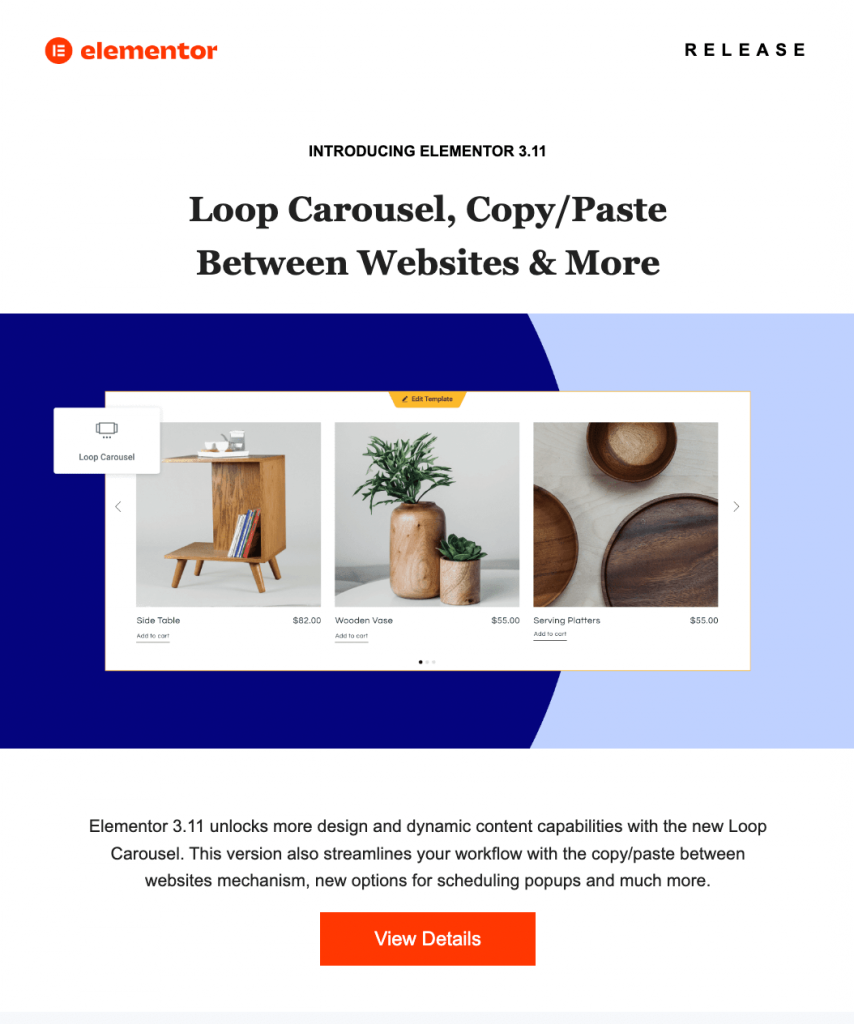 You've built each of your products from scratch and it's fair to be super excited for each of the product updates you launch. And in that excitement, you might want to send your customers individual emails for each update.
However, your customers might not share the same enthusiasm as you on that. Be it product updates or any other email, the recipients don't want their inboxes flooded!
So, how do you find the middle ground between keeping your customers informed about your latest product update and keeping your emails low-key enough to not bother your customers?
Here are some quick tips for your convenience –
Firstly, because it's a product update email, focus only on the newly launched features on the email. Don't overcrowd the email with every single minor change either.
Secondly, you can periodically send a roundup of new features on a monthly basis. However, highly demanded features or a big leap update might deserve its own email.
Finally, put a link to a custom page mentioning the updated features so the interested individual may have the option to know about these.
Seasonal and promotional campaigns
Seasonal and promotional emails follow the same pattern as both are sent for promoting a singular offer. These campaigns promote the offers that usually come once a year like on Mother's day or Father's day, the holidays, the start of summer, or back to school.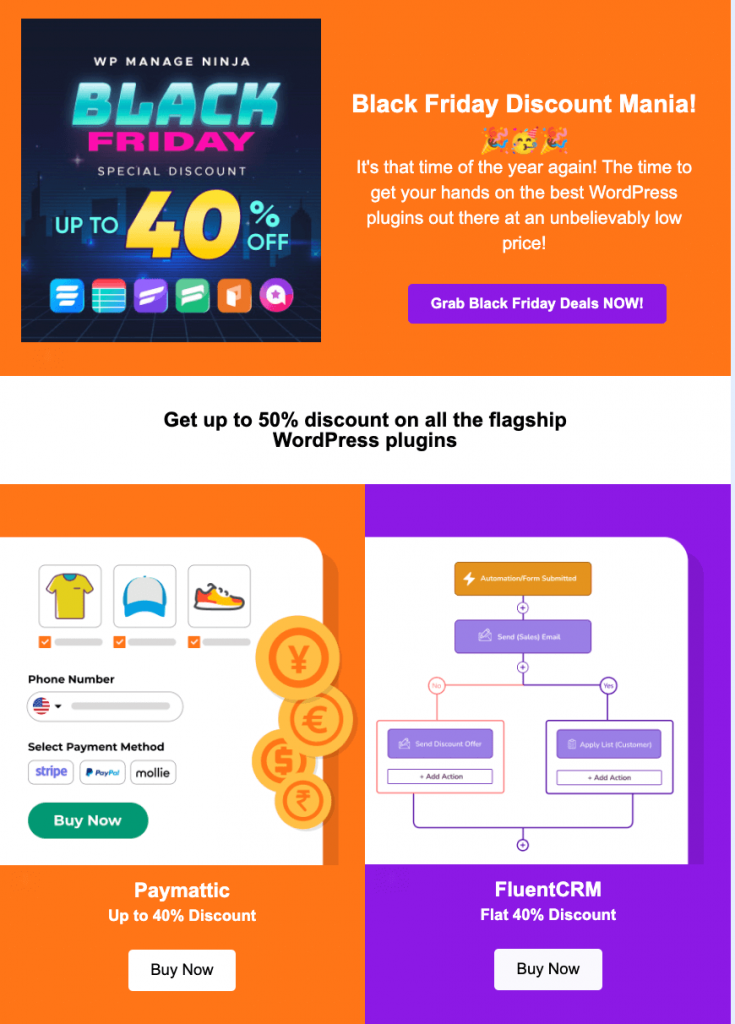 These campaigns account for most of the sales in most parts of the globe and you don't want to be the outcast who doesn't take advantage. However, there are several best practices to follow while conducting seasonal or promotional campaigns, these are:
Closely follow the holidays in the countries your customers live in. You should have your list segmented for this.
Start your promotions earlier than others. This gives you the edge over others and also makes sure you reach your customer's inboxes without getting overshadowed by other promotional emails.
Match the colors of your CTAs as well as the language to the vibe of the holiday.
Offer an exclusive discount for the holidays. This is the only reason your customers come to you during the holidays.
Induce urgency by adding a countdown clock on the landing page. The urgency pushes people to make the desired purchase.
Invitation emails
Organizing or hosting an event is an excellent way to generate leads. However, when you host an event, whether online or offline, you want people to attend. And what better way to invite them than by sending them invitation emails?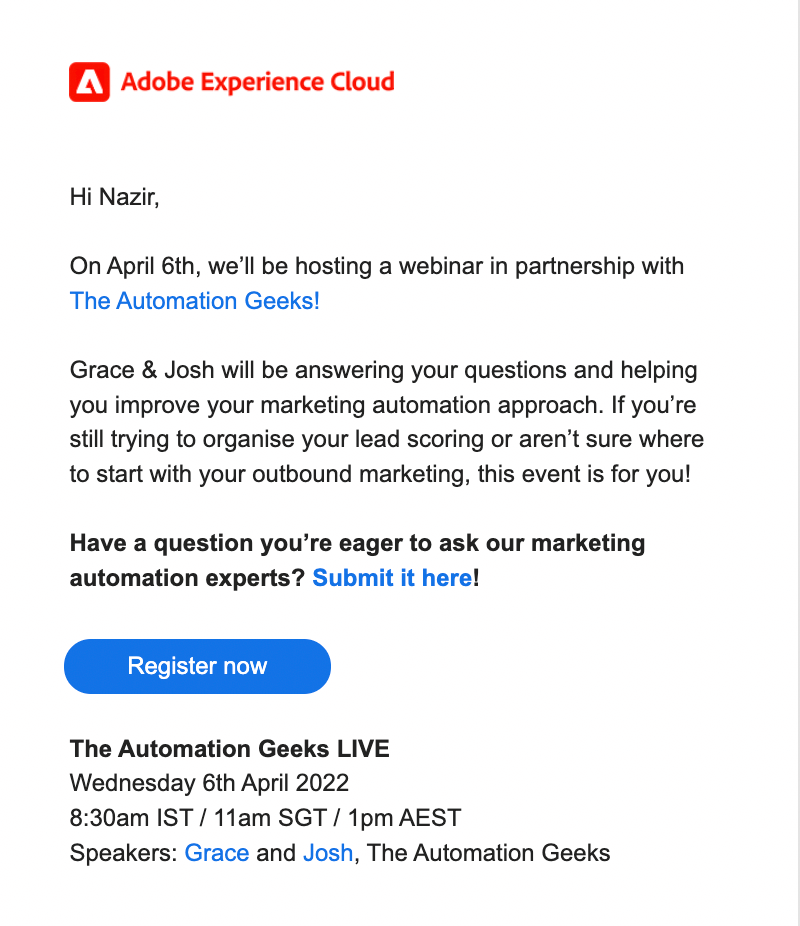 For events like webinars, in-person events, loyalty, or product test programs, you want to send invitations to only the relevant list of subscribers. For instance, if you're hosting an in-person seminar in New York, send it to subscribers who live within a reasonable distance or work in the relevant industry.
While designing an invitation email, there are several things to keep in mind, which include:
Design the emails with stunning visuals and clearly stated messages on the event details
Mention what the event or program is
State the date and exact time the event takes place
Describe the benefits of attending your program
Lead nurturing emails
Lead nurturing is an inbound marketing tactic that takes all the nuances of your leads' behavior into account and picks just the right email marketing campaign for a given lead.
Lead nurturing emails are a type of email that's sent to a lead after they've shown an initial interest in your business. These emails build a positive relationship with the lead by grooming them and keeping them engaged with your business so they become your paying customer.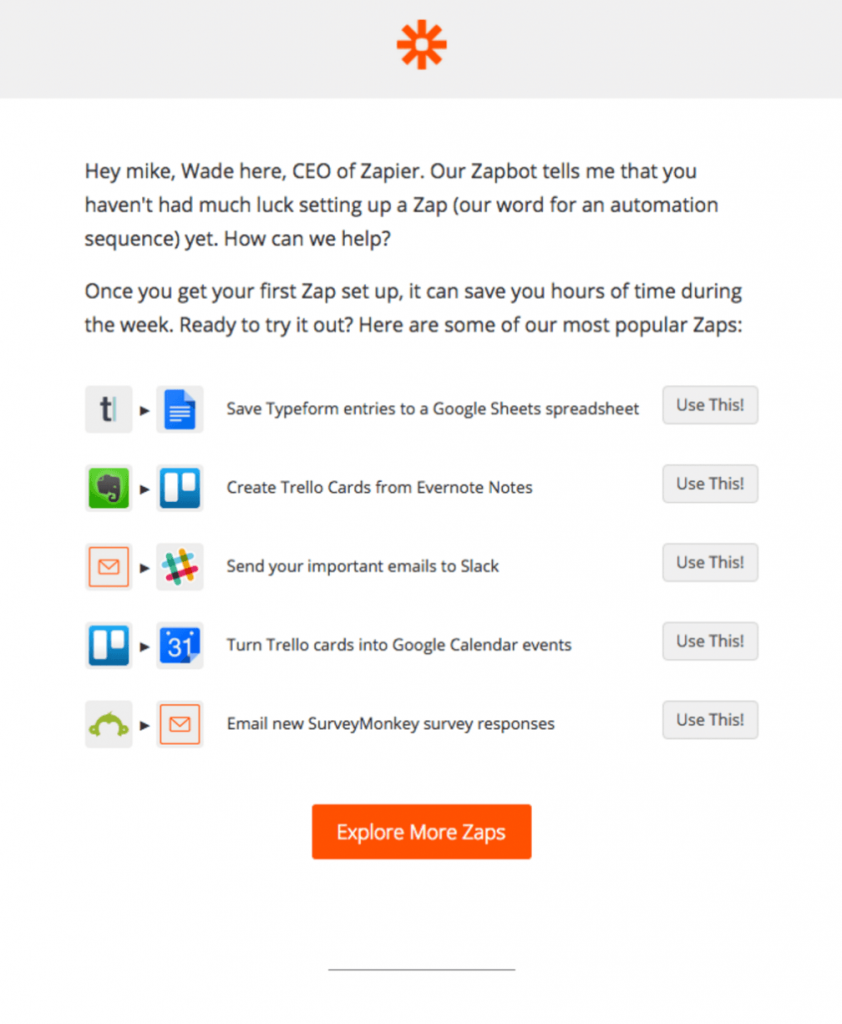 You can develop your buyer persona as you go deeper into your lead nurturing campaign. For example, whenever you send marketing emails to your leads, whether they'll interact with it by opening or clicking through it, or they'll leave the email unopened.
This helps you determine where in the lead generation funnel they fall into. And after you know what stage of the buyer's journey they're in, you can easily decide what content you should nurture your leads with.
The idea is simple— finding a common set of actions some of your leads took or content they are interested in. This allows you to follow up with your leads with more meaningful and targeted information so your leads keep in touch with you.
Cart abandonment emails
Oftentimes, a customer will browse through your store and do as much as add an item to his shopping cart but at the last minute, they'll decide against making the purchase. These are the kind of prospects who are the closest to becoming customers and you need to give them the final push so they become one.
So, how do you do that?
Of course, by sending them a cart abandonment email. Cart abandonment emails have a higher chance of getting opened by the recipient and you need to utilize it right now if you aren't already!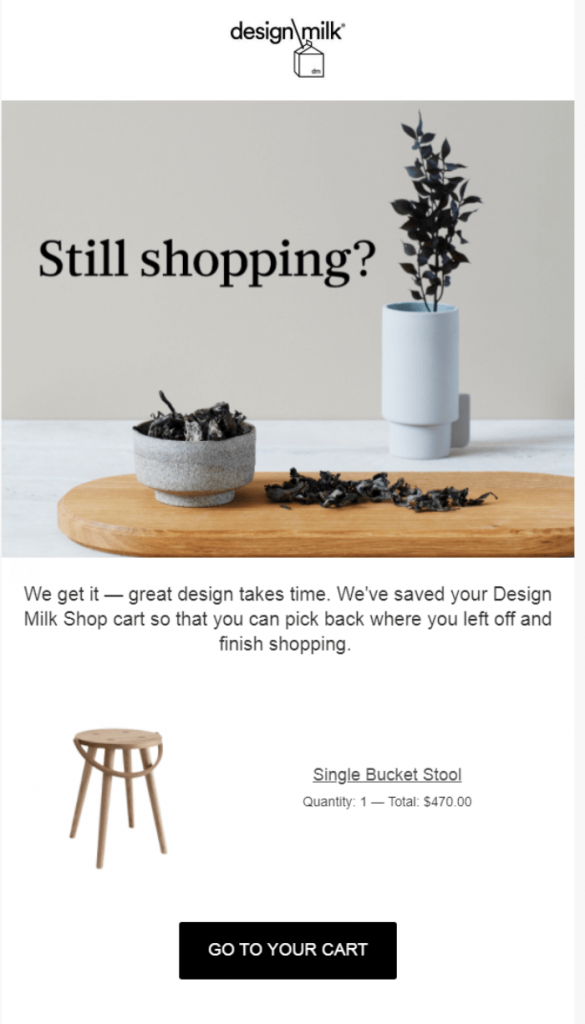 However, timing and sending the email is not an easy task. Rather, it's a tactical type of email that requires following a set of best practices, such as:
Find out why the customer abandoned the cart in the first place. If you're able to find that out, relieve the pain point to gain the customer back.
Answer the FAQs. Oftentimes, you can get the customer to make the purchase just by answering a question they have.
Put the link to the products that were left abandoned in the cart so the customer could easily get to the cart to finish their purchase.
If the customer is not persuaded even after the initial reminder to check their cart, try offering a discount so they have a reason to go back to the purchase.
You shall end the email sequence right there if none of it had any effect. You don't wanna end up in the spam box!
Re-engagement emails
There are often prospects who subscribed and interacted with you or even made a purchase from you, and then ghosted you for a long time! This means these highly engaged customers not only lessened the engagement but stopped engaging with you altogether. This is a pretty common scenario in the online space.
In fact, most businesses face around a 20%-30% email churn rate each year and you have to cope with that. What you can do is try engaging with them once again with a re-engagement email.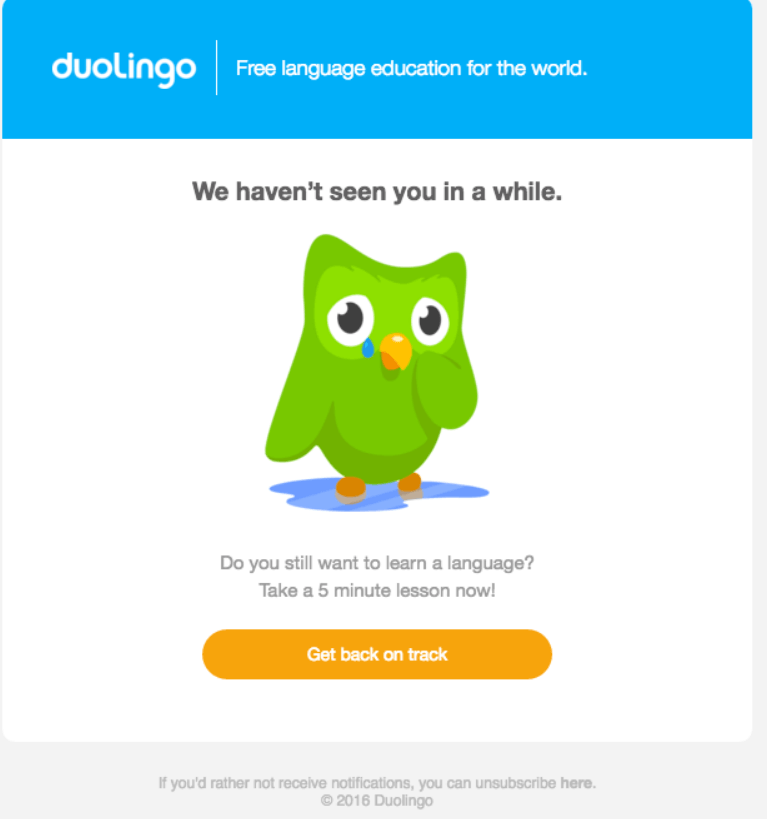 After the re-engagement campaign, one of these scenarios might occur:
Scenario A: The customer is reminded about you and some interaction from their end gives you the hope that you regained your customer. This is beneficial for your business.
Scenario B: The recipient unsubscribes or doesn't respond to your email. This is still beneficial for you because it gives you the chance of cleaning your email list and obtaining a small list of highly engaged subscribers which sends a better signal to your ISP, improving your deliverability rate.
Also read: 8 Best Email List Cleaning Services in 2022
Whichever the case might be, your efforts pay off and you squeeze out even the last bit of potentiality a customer has to offer.
Review request emails
Having some positive reviews up your sleeves helps your business in multiple ways. Reviews, in general, are beneficial for your business because it creates brand awareness, give brands the chance to know their audience's needs, and ultimately increase conversions.
So, how do you gain those desired reviews?
Oftentimes, customers forget to leave a review or simply don't bother writing a review but you can persuade them to give a review simply by asking your customers for reviews. One of the most efficient and clever ways of asking for reviews is by requesting your customers to leave a review via a review request email.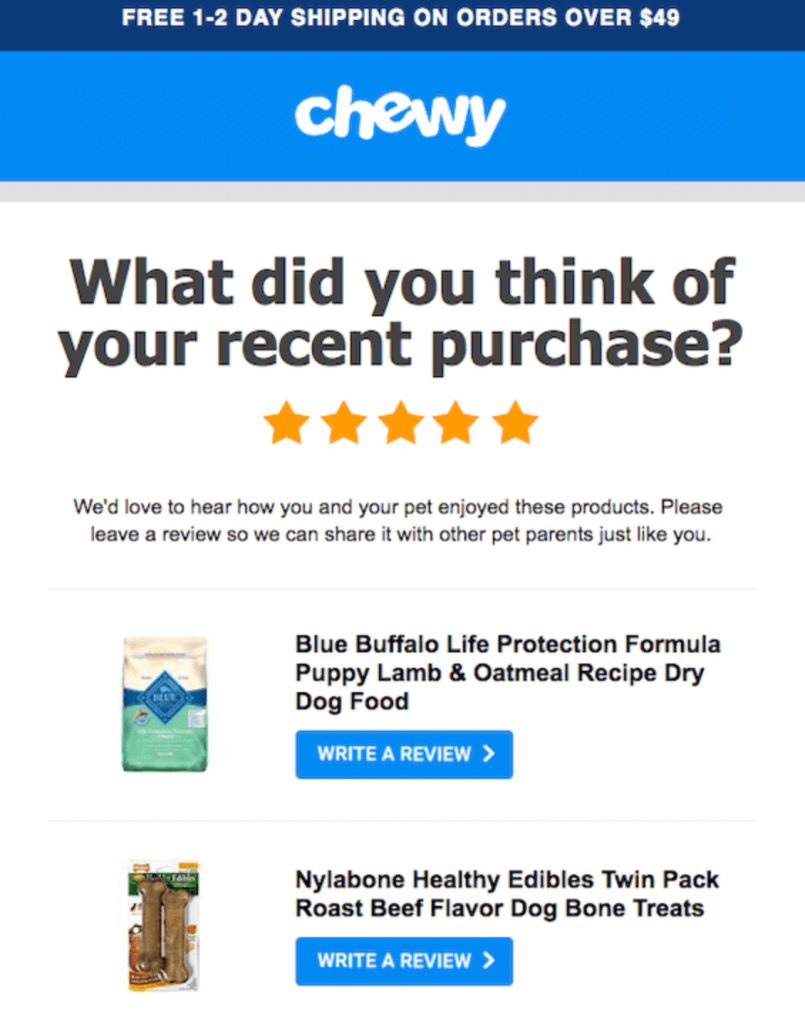 The review request emails should start by asking potentially happy customers for reviews. You can even conduct a survey on your customers so they can express themselves.
Another tactic to follow to persuade your customers to leave a review is incentivizing feedback and reviews. You can give out a small gift or voucher to the reviewers for their efforts.
Order confirmation emails
Order confirmation emails are transactional emails sent to the customer after their purchase to assure the customer that their order was received and the order is being processed.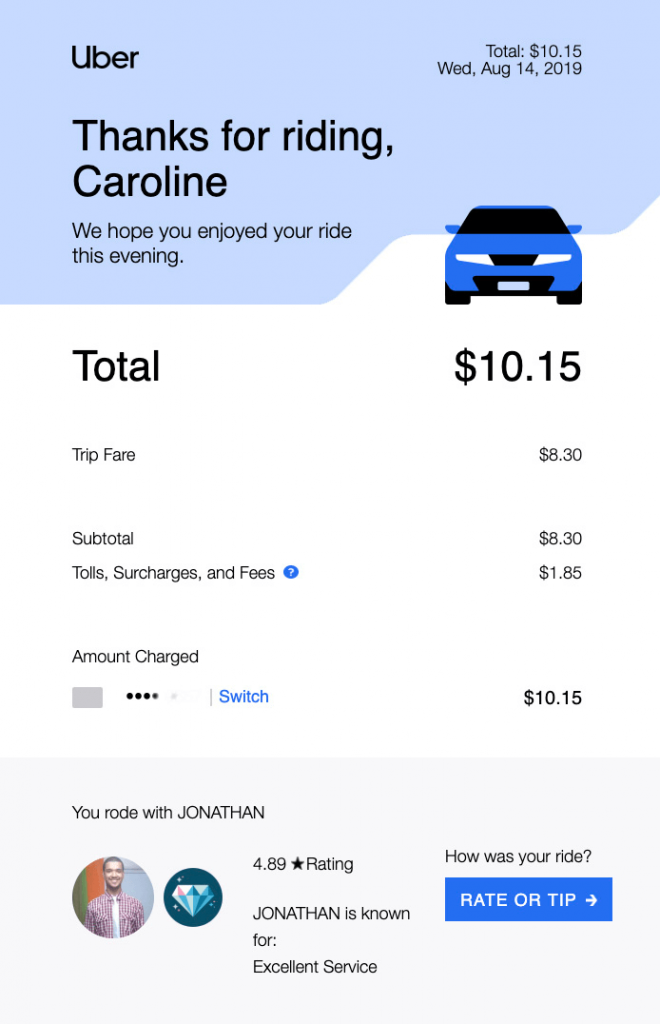 Order confirmation emails reassure your customers that they are not being defrauded. This helps you gain customer trust and encourage them to make future purchases. These emails also help build up a positive relationship with your customers.
You should include all the order details including the order number, shipping and personal details, order summary, and price breakdown in the order confirmation email.
Other best practices include— writing effective subject lines, sending the email quickly, optimizing for mobile, putting effective CTAs in the email, and following up with the customers at the right time.
Order confirmation emails can become an asset for your business if used correctly. Order confirmation emails are one of the fundamental email types you need to start sending if you don't already.
Wrap up
Implementing various types of emails is a great way of diversifying your email marketing efforts which in turn helps you squeeze out every drop of potential email marketing has to offer. And our primary goal in writing this article was to introduce them to you.
Let us know in the comments below what email types you send out to your customers regularly and what ones you're yet to implement in your business!