FluentCRM is one of the easiest and fastest Email Marketing & CRM solutions for WordPress. This plugin can be installed from your WordPress dashboard. You can also download it from the WordPress site and install it on your dashboard.
Requirements #
To use FluentCRM, you'll need –
WordPress version 5.0 or higher
PHP version 5.6 or higher
Install and Activate FluentCRM #
You can install FluentCRM free version like any other WordPress plugin. Follow the steps given below –
Go to the WordPress Admin Dashboard → Plugins → Add New
Type in 'FluentCRM' on the search box, click the install button and then Activate it.
Another method to download the .zip file and upload this on the Add New page is by using the Upload Plugin button, after that click Install & Activate.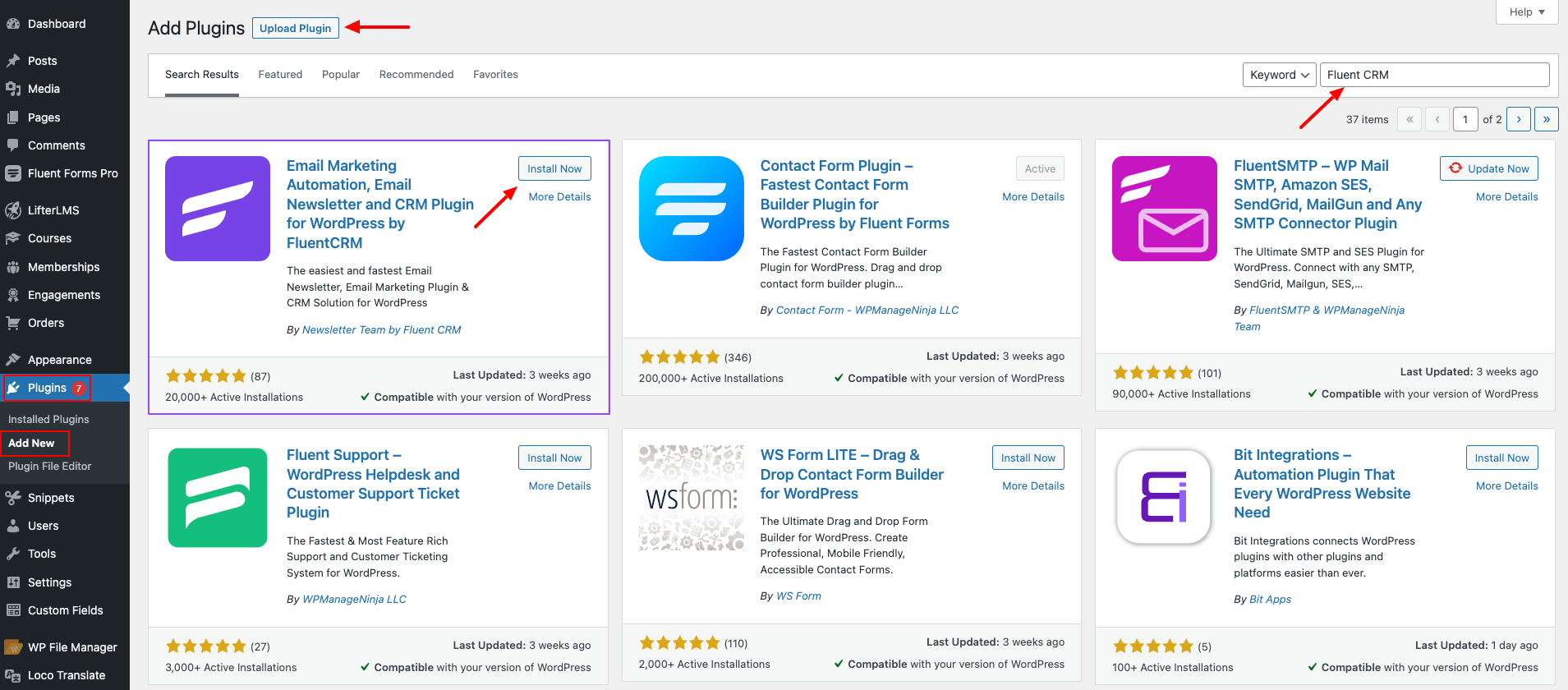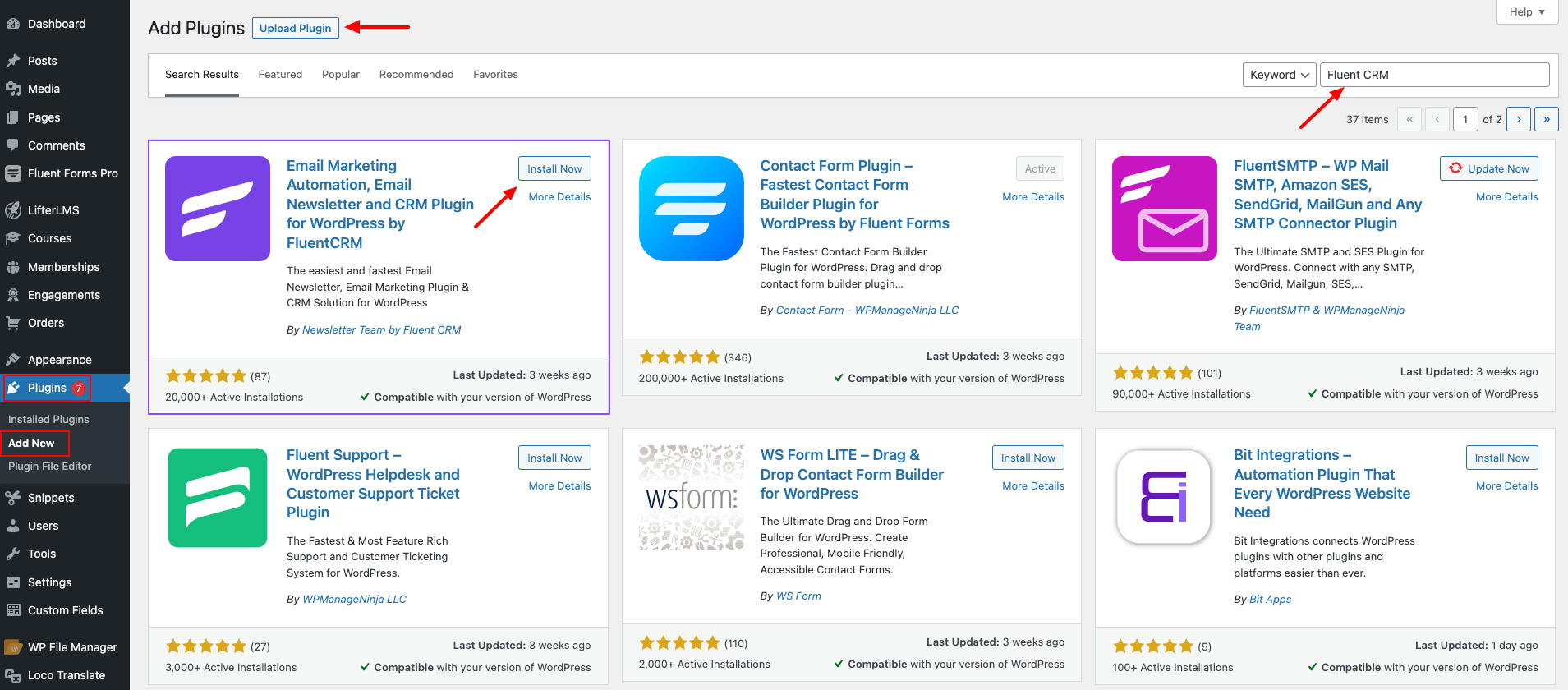 Installing and Activating FluentCRM Pro #
After a successful purchase, you can download the Pro version from your WPManageNinja Account.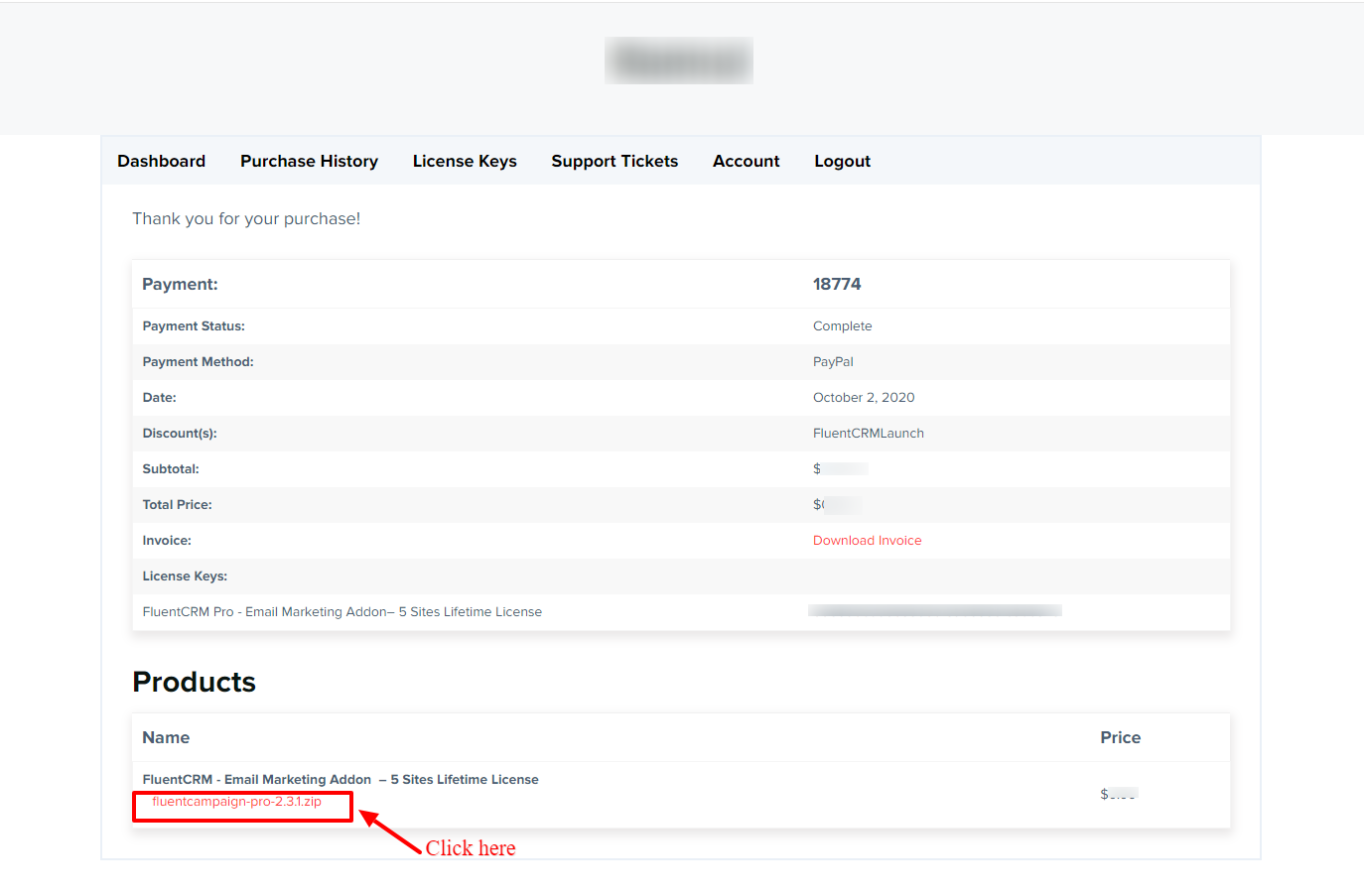 Go to the My Account page, then just download the file, upload it to your site, then install, and activate the plugin. The process is quite straightforward.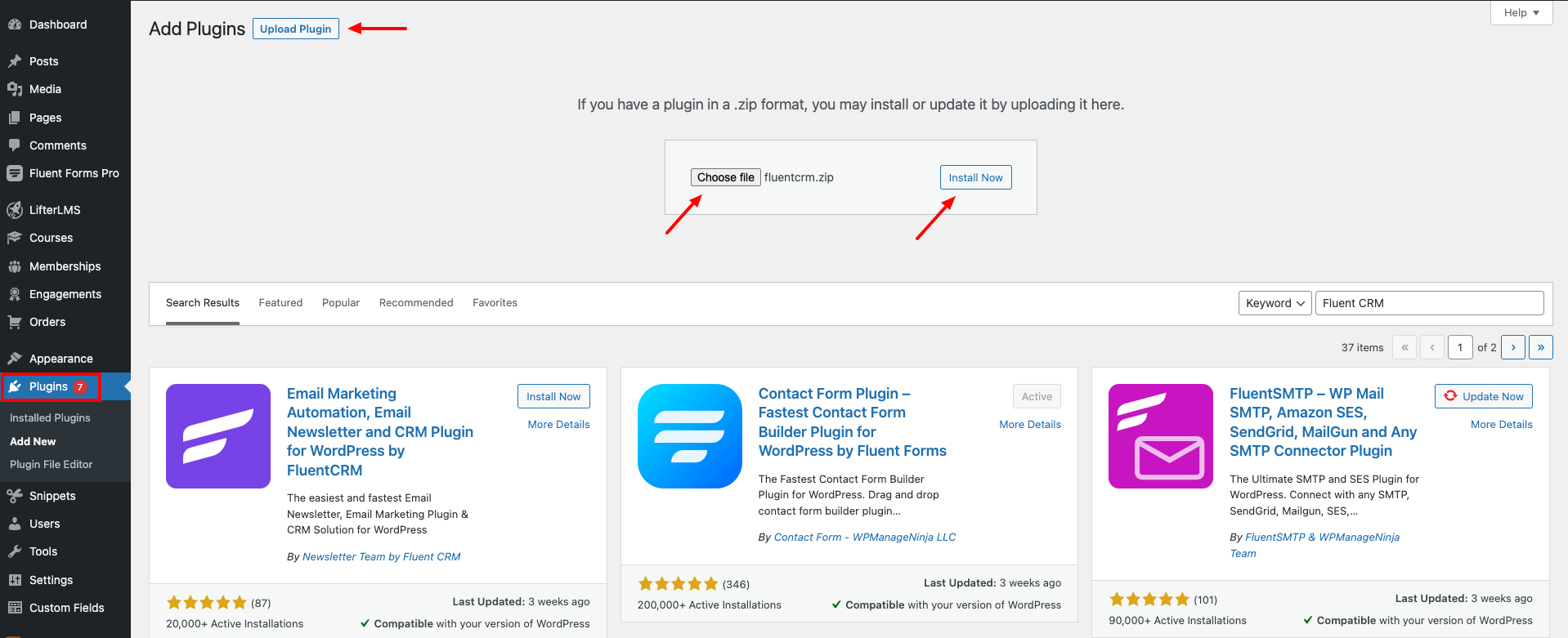 Update FluentCRM #
It's pretty easy to update both the Free and Pro version. You can navigate to the plugin page of your dashboard, in order to check if an update is available. If any update is available just click on the update button. Make sure that the pro version is activated with a valid license key. If you don't have a license key or the license key is expired, you can purchase a new one or renew the existing one from here
Activate FluentCRM License #
FluentCRM Pro comes with a licensing option to activate your license. Follow these simple steps to activate the license –
Go to FluentCRM and click on the Settings option from the sidebar. Then click the License Management tab, here you'll find the option for providing the License Key. So, after adding the key just click the Verify License button. Now you have successfully activated your license!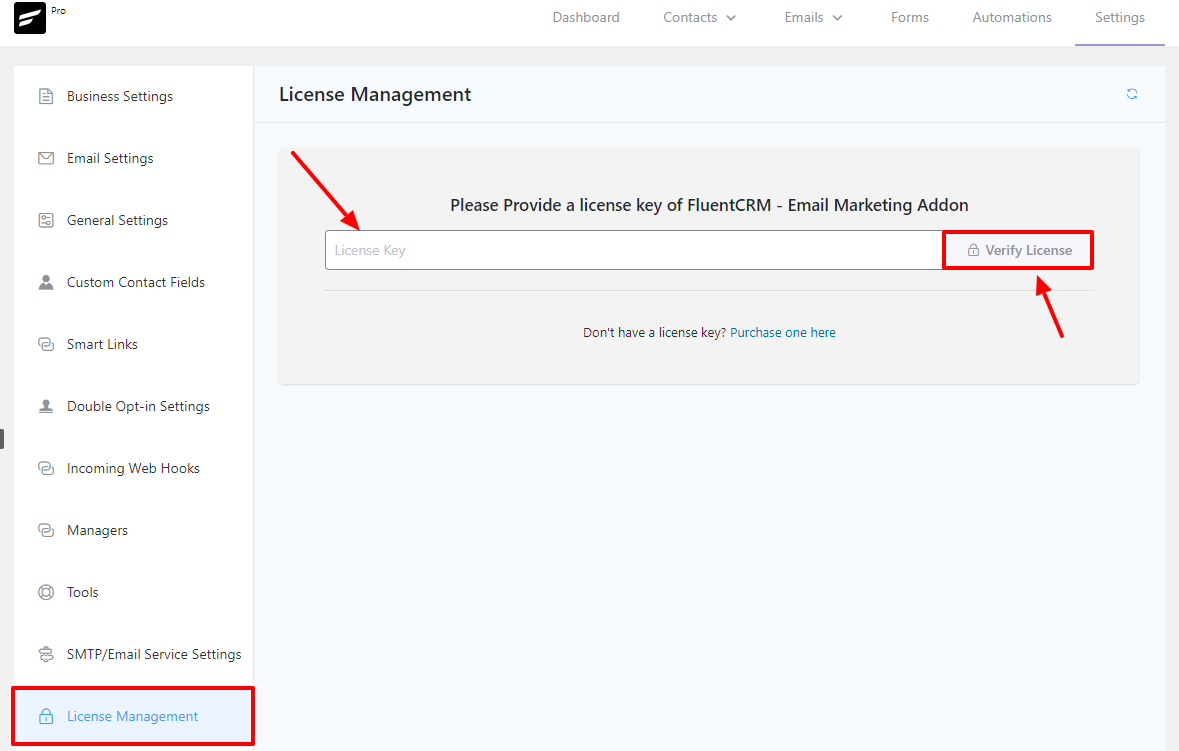 Renew FluentCRM License #
FluentCRM Pro comes with a licensing option to renew your license. Follow these simple steps to renew the license:
You can start by going to the purchase history from WPManageNinja Account.
Then you'll see the 'Renewing a license key?' link on the checkout cart. Click on that.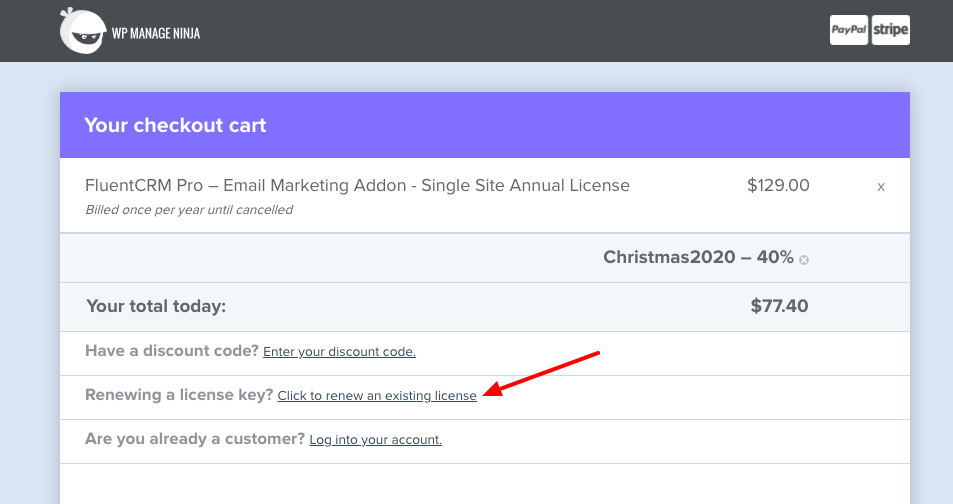 After entering the license key, click the Apply License Renewal button.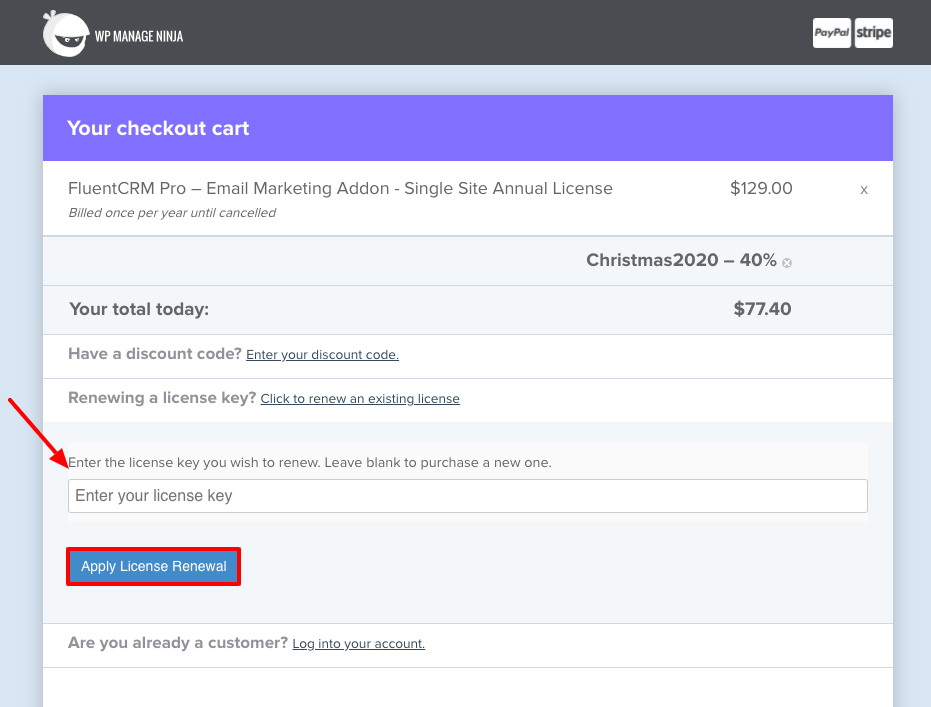 Lastly, your license will be activated automatically. Now, the license key activation process is complete!