Email Marketing & Automation in WordPress is the process of sending automated emails based on your audience's behavior and automating various tasks inside the WordPress website that is initiated upon different activities and triggers. It lets you turn your leads into customers and customers into brand advocates who'll rave about you whenever they can! Email Marketing Automation is actually a marketing cylinder or funneled workflow where your leads can get into a relationship with your business starting from different activities.
FluentCRM is a tool that automates tasks and also runs emails such as Email Campaigns, Email Sequences & Custom Emails. In this article, you will get a detailed walkthrough of the Marketing Automation, Sales Funnel & Email Sending based on specific activities from FluentCRM.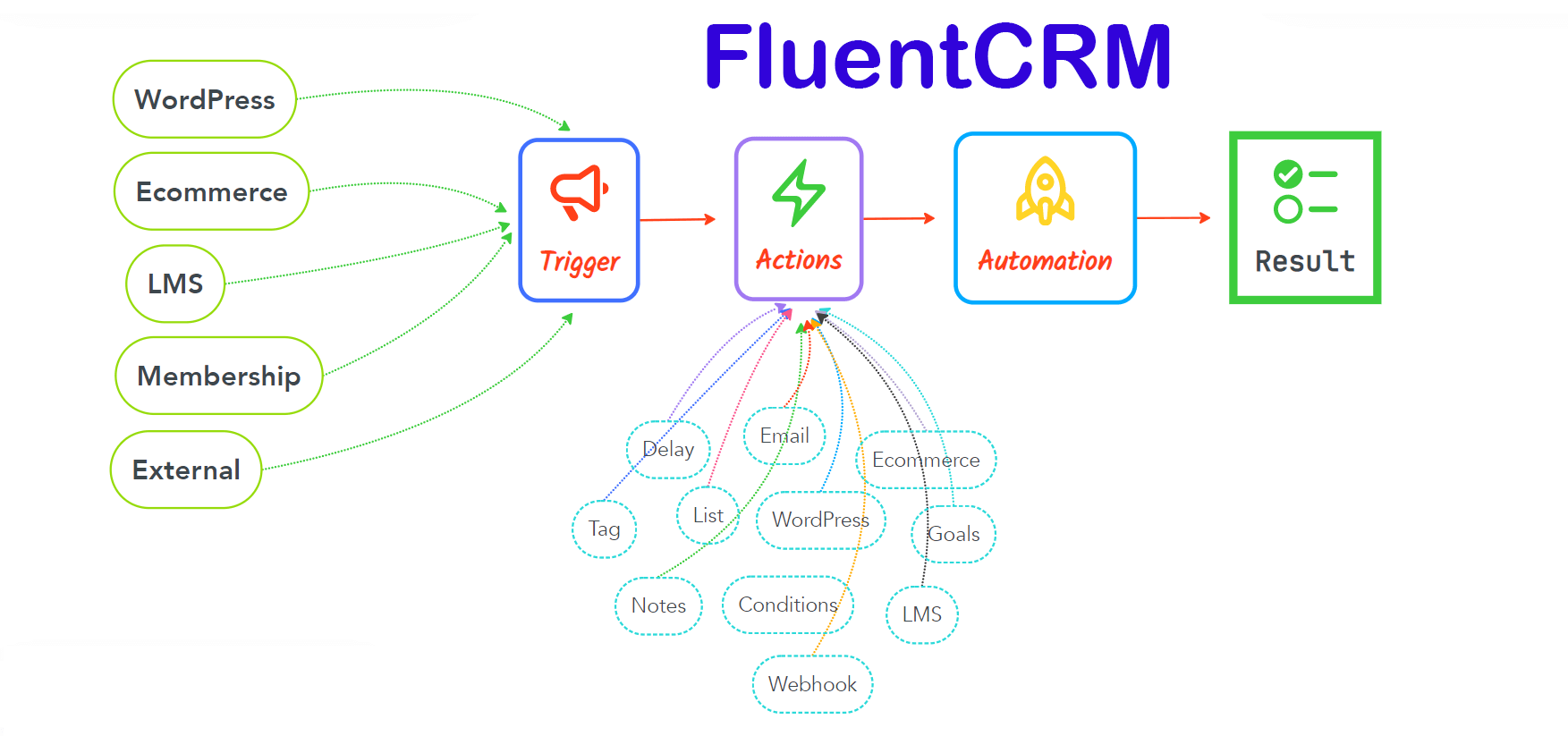 Glossary #
Before we dive deep into FluentCRM and Automation, Let's learn some terms that are very important to know and frequently used.
Dashboard #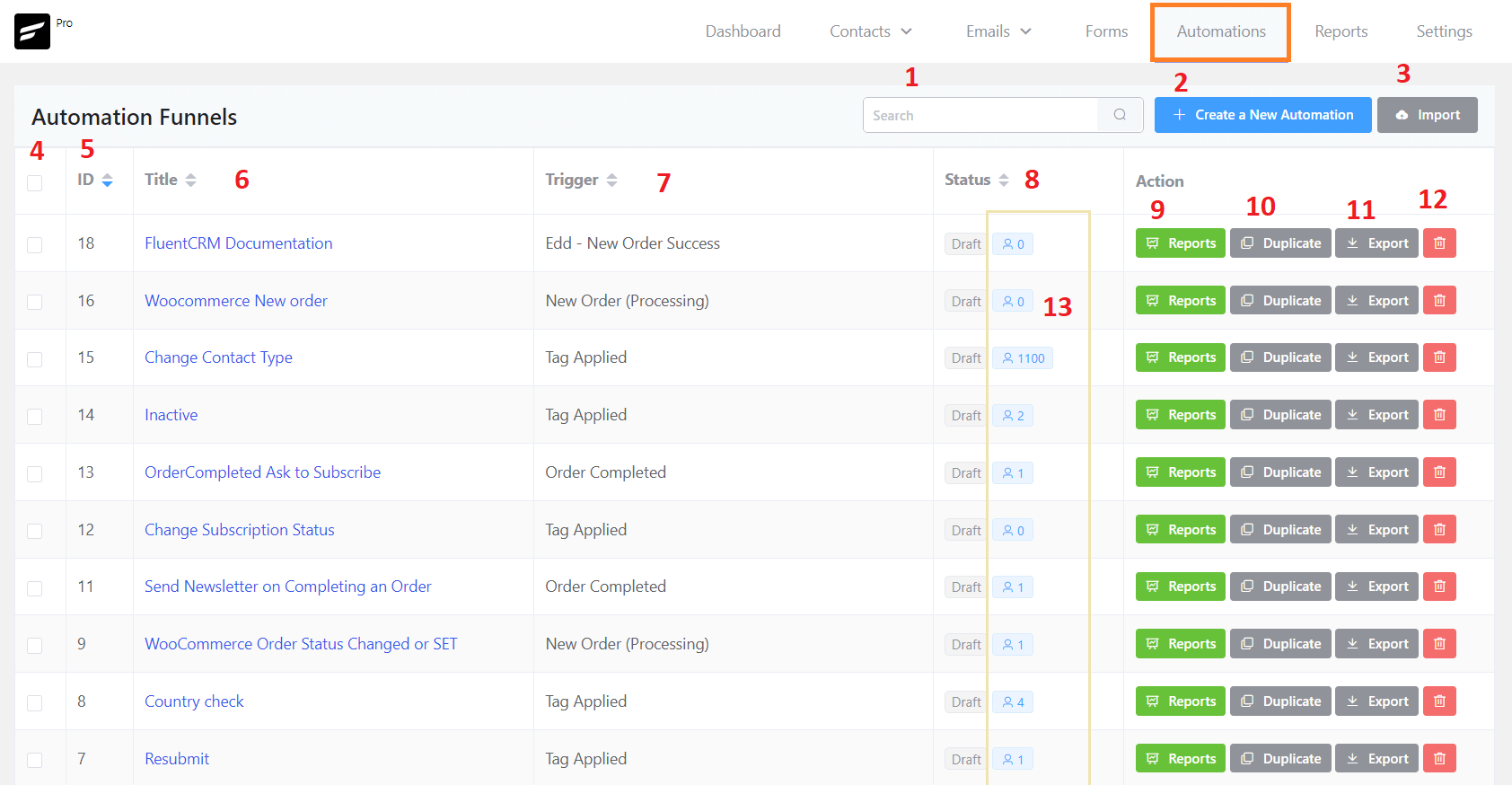 Searchbox: Search for any automation.
Create New Automation Button: Create a new Automation and it will redirect to Editor.
Import Button: Import any automation already exported in JSON format.
Select Checkbox: Select single or multiple automation to apply bulk actions.
ID: ID number of the automation.
Title: Title of the automation.
Trigger: Primary Trigger of the automation.
Status: Status of the automation.
Reports Button: Check report for the automation.
Duplicate Button: Duplicate existing automation.
Export Button: Export target automation.
Delete Button: Delete target automation.
Contact in Automation: Contact Number that is entered into the automation.
Editor & Diagram #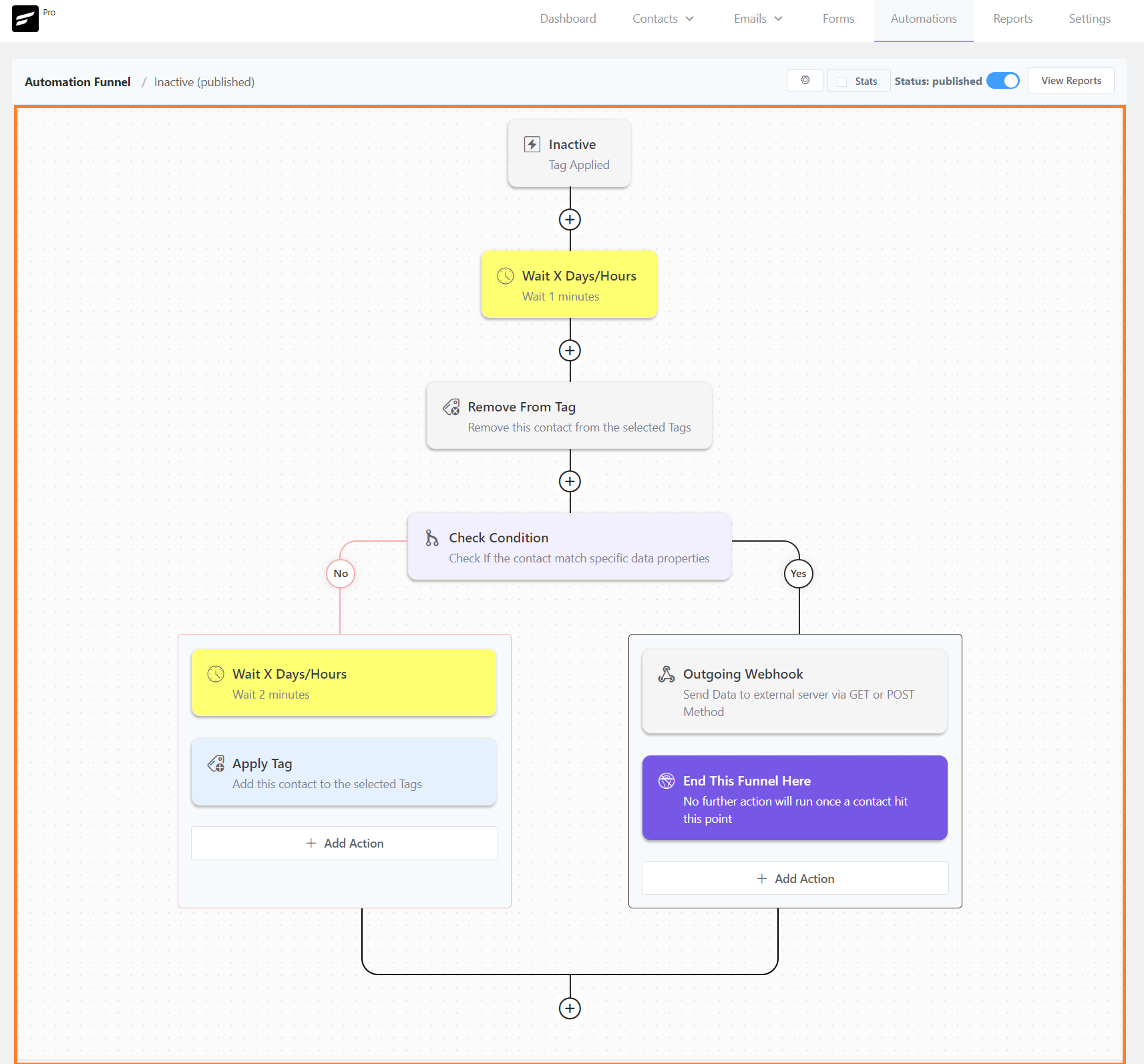 This is the place where you will work mostly with Automation. You will be able to graphically view the workflow of the automation as you customize and configure it. Please visit Automation Editor to learn more.
Triggers #
As we know triggers are the initial activities that start automation. FluentCRM has a lot of triggers that lets you initiate automation.
Actions #
These are the activities that you want to run automatically when any activity triggers the automation you configured based on the previous Triggers.
Report #
Below is an example report screenshot of automation that is published and have multiple actions. To learn more detailed reporting details please visit Automation Reports.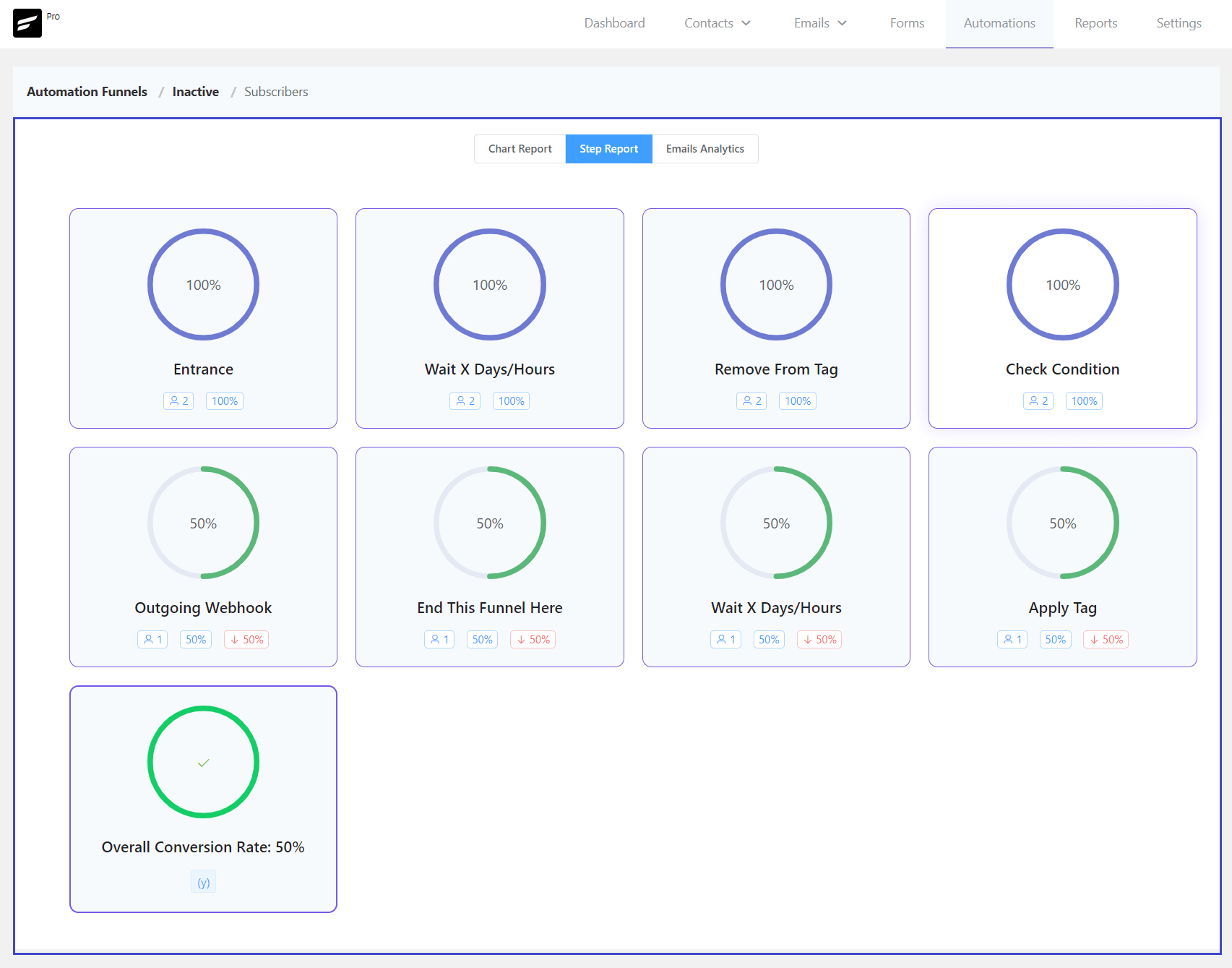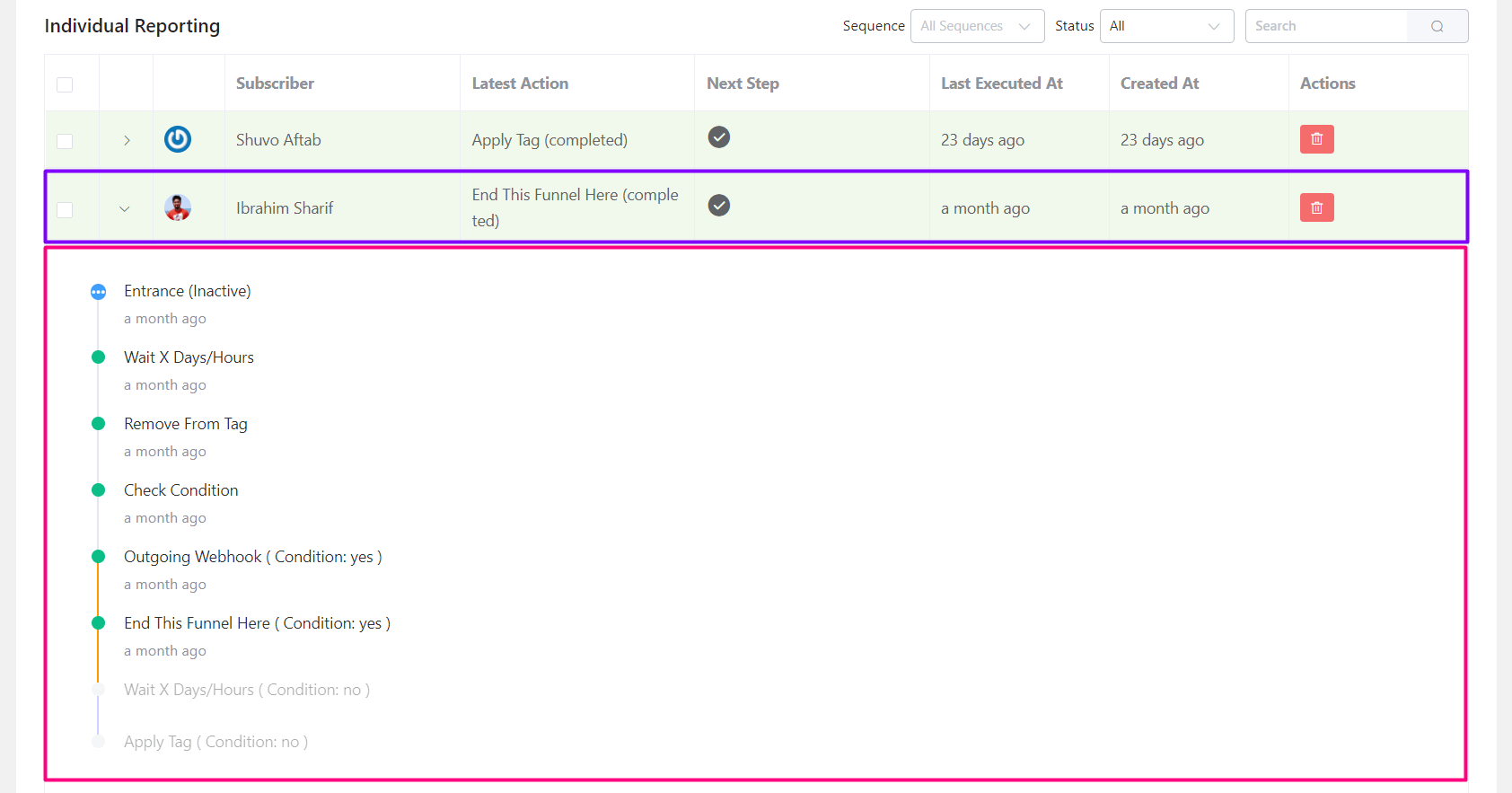 That's all as an introduction or overview of FluentCRM automation. Please review the relevant elements to learn and start working with FluentCRM automation to build your own funnel in the WordPress website.