FluentCRM is an Email Marketing & Automation tool. It helps you launch Email Campaigns, Email sequences, and Email Automation to automate your marketing emails.
By default, FluentCRM will use the default mailing functionality of WordPress, wp_mail(), to send PHP emails via your hosting. So even if you don't configure anything, FluentCRM will send emails just fine. However, we know FluentCRM's users would want to use a better email service to send their marketing emails and in cases of cloud hosting where email sending is disabled due to the blocking of outgoing emails via port 25, advanced email configuration to send emails from such servers and also deliver through high reputation servers and reliable providers like AWS SES, Google Workspace, Microsoft Office365, Sparkpost, etc.
Google Workspace, Microsoft365, or low limit Email Delivery Providers are not recommended to use for Bulk Campaigns.
The email campaign is the process refers to the process of creating, managing, and analyzing large-scale email marketing campaigns. This can include tasks such as designing the email template, creating a list of recipients, scheduling the emails to be sent, and tracking the success of the campaign. FluentCRM Specializes in Email Campaign Processing, Scheduling, and Sending.
The actual email delivery from FluentCRM is dependent on the WordPress Email Delivery. Either the default system via PHP mail() using WordPress's wp_mail() function or Extended Delivery via Plugins like Fluent SMTP.
Using your hosting space for email isn't a good idea. And using the hosting for sending PHP emails would most likely deplete the hosting resources. Thus, we suggest that you use a separate email service.
To learn more about various Email Delivery Providers and their overview, you may check out some of the blogs below:
Prepare: Configure an Email Delivery Service Provider #
In order to use an email service, you need to use an SMTP plugin. There are plenty of SMTP plugins in the WordPress repository. But most of them offer slow email sending.
Fluent SMTP to Handle All Email Delivery #
That's why we've created a free-for-lifetime SMTP plugin called FluentSMTP. In fact, it is the only SMTP plugin that allows multiple SMTP connections at the same time described here: Multiple SMTP Connections & Auto Routing. This means, if you install FluentSMTP, you can use multiple email-sending services to cut down your email-sending costs. Some email services can be a bit costly. So if you have FluentSMTP, you can use the expensive email service for your marketing emails and the less expensive email service for not-so-important WordPress emails.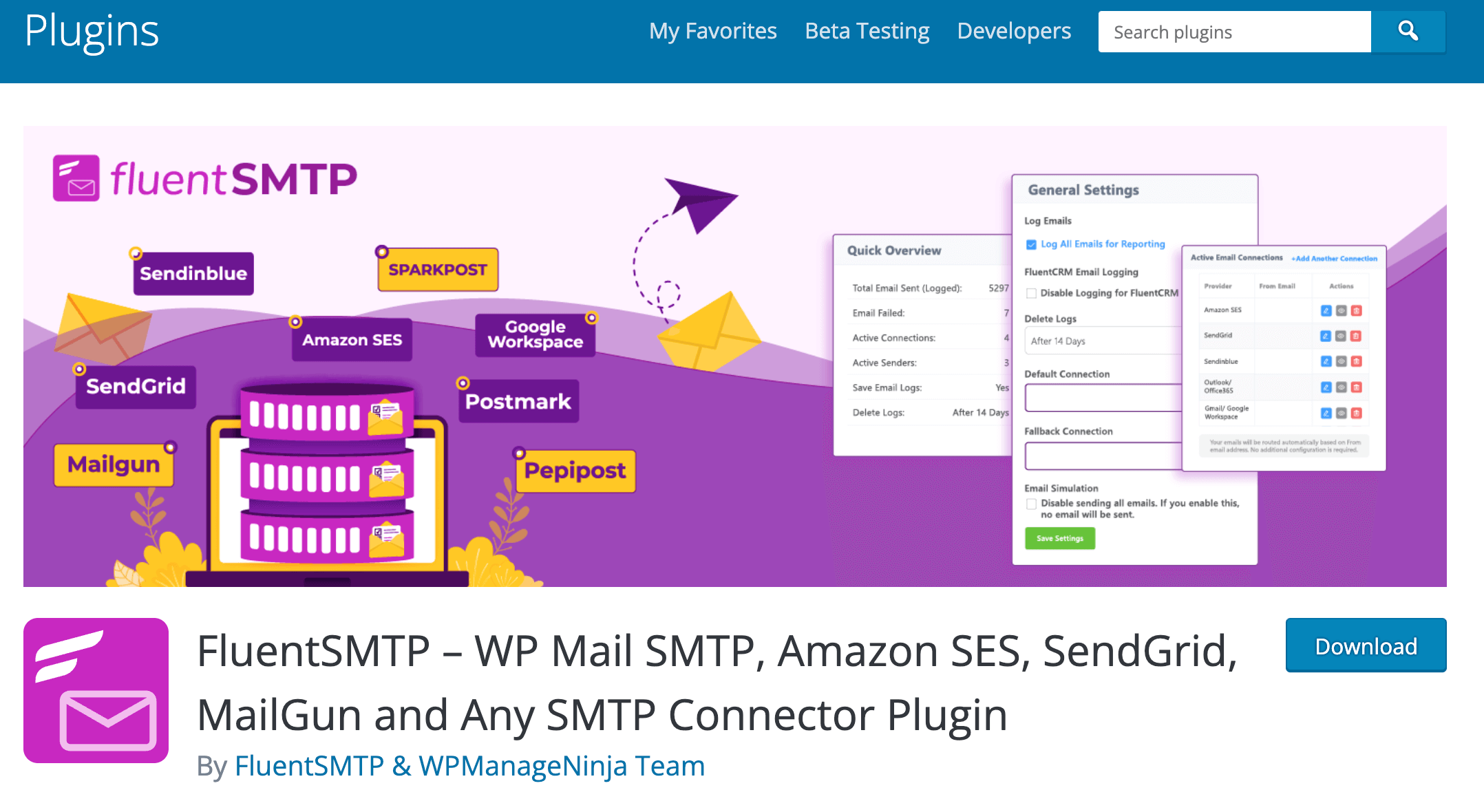 For more about Fluent SMTP, Configurations, and features please check the relevant documentation: Install and Activate Fluent SMTP, Configurable Email Delivery Providers, and Introduction to Fluent SMTP Dashboard
Click the button to install FluentSMTP. Or, you can download and install FluentSMTP on your WordPress by clicking the button below:
List of Configurable Delivery Providers #
There a lot of different Email Delivery Providers can be configured natively via API-based connection as listed below:
Example of Multiple Email Delivery Connections #
Below is an example screenshot of multiple Email Delivery Connections based on various Delivery Providers: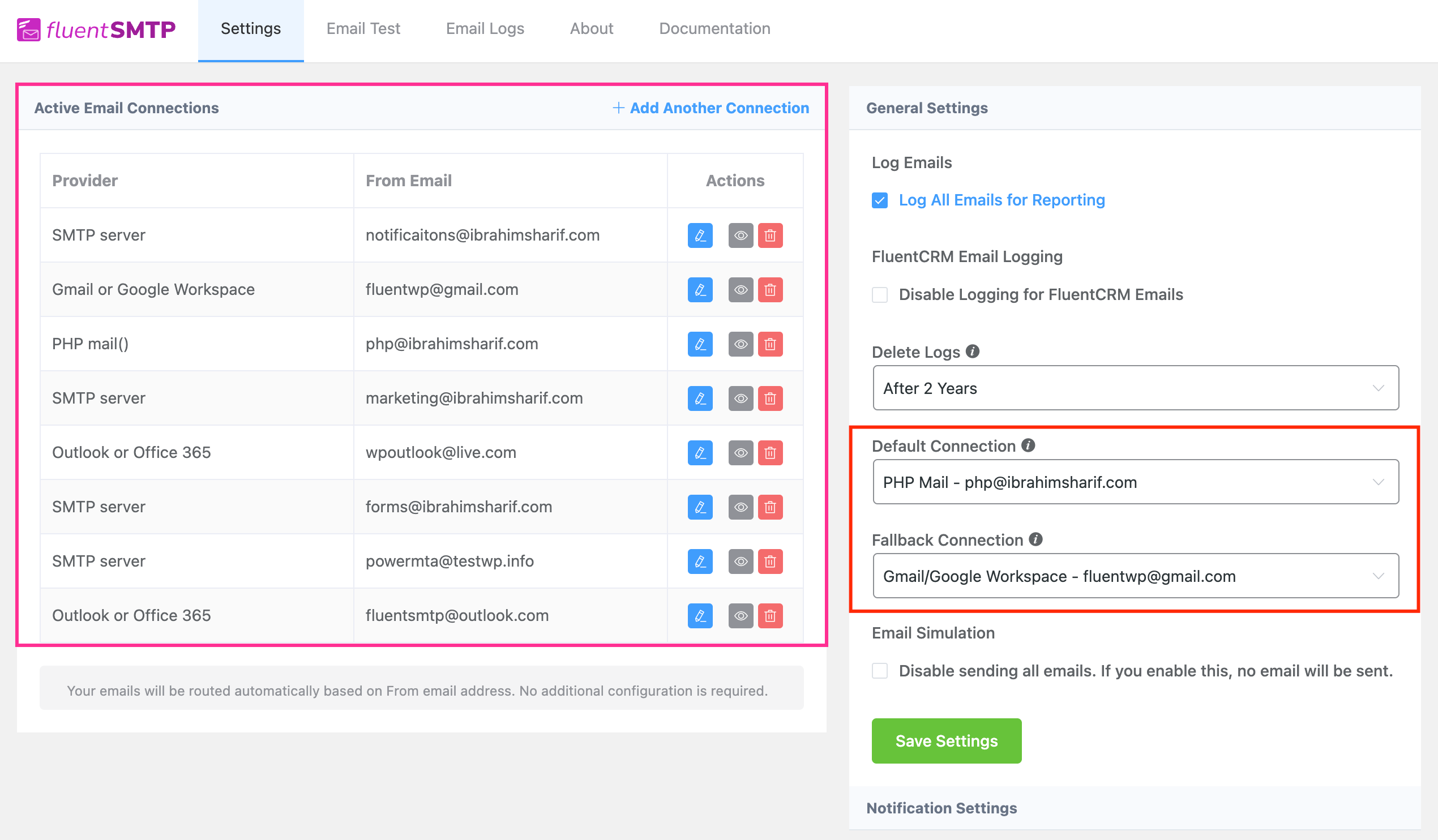 Testing Email Deliverability #
Once Fluent SMTP or any other plugin is configured, please test if the email is being delivered properly and reaches the recipients' inbox or email client.
Send a test email #
If you are using Fluent SMTP, Go to WordPress Settings => Fluent SMTP Dashboard => Email Test and then follow the procedure below:
From: To send a test email the From Field will let you choose the Sender Email based on the configured Email Connection. If nothing is selected the default connection will be used.
Send To: You should use a free ESP Email Address in the Send To Field to get the test email and confirm if the email is received or not.
HTML: Whether to send the test email in HTML MIME or in the PLAIN TEXT version.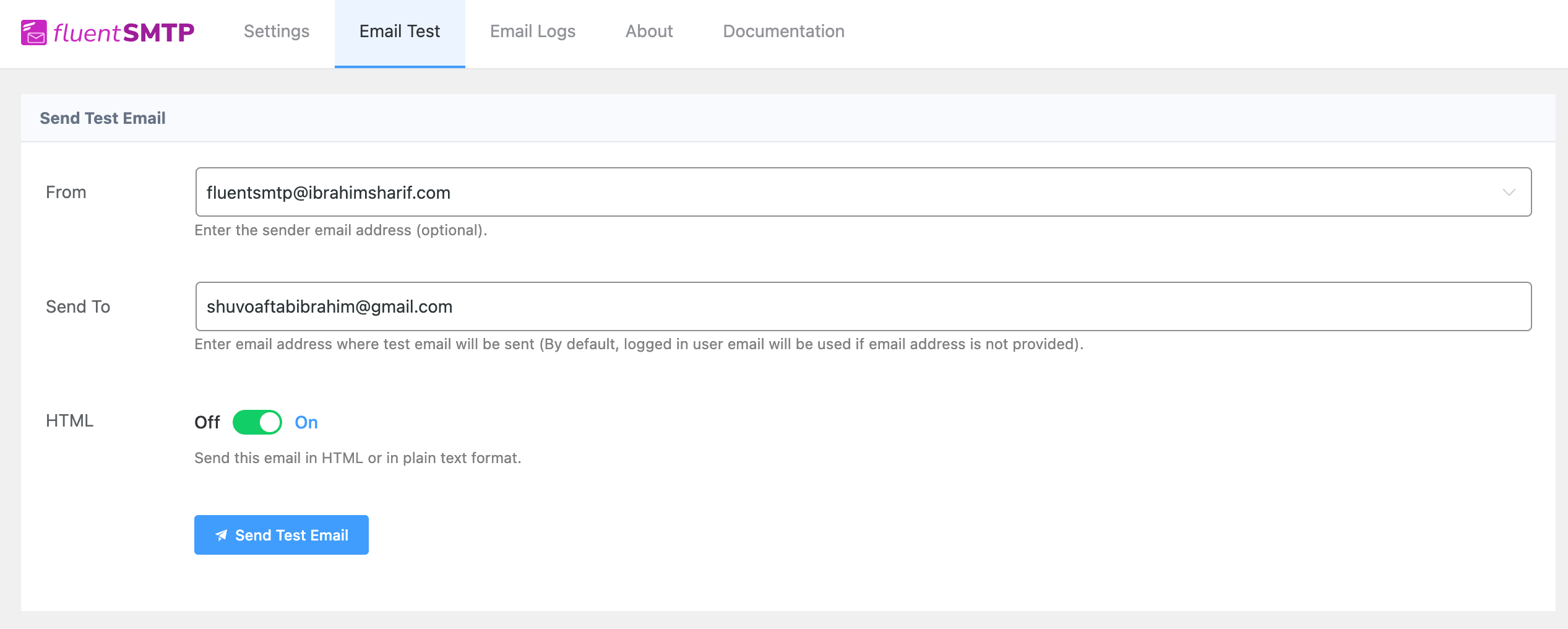 Test Email Confirmation #
Now once you Send a Test Email from the previous section, if there is no issue in connectivity to the remote mail server and the authentication credentials it will show a successful message as below:

Confirm Test Email Deliverability #
Now it's time to check from the Email Client to see if the Test Email is received or not. In our case, we used a Gmail account to receive the test email and it was received successfully as you can see below: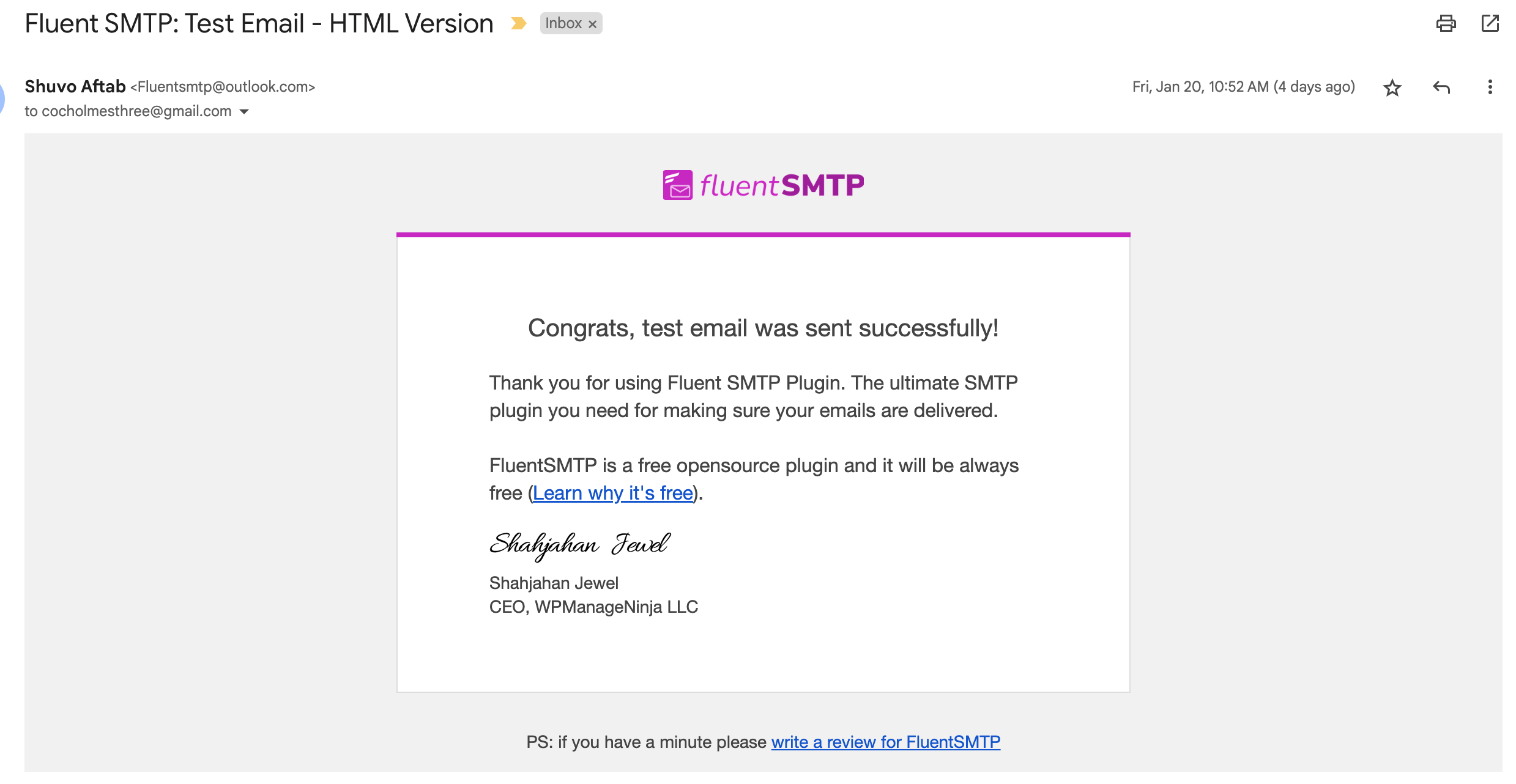 If the test email is not under Inbox Folder, please check for Junk or Spam folder as well since there are thousands of factors regarding Domain, IP, and Delivery Provider reputation that may impact the landing of the email directly under the Inbox Folder.
Once the test email is sent successfully and confirmed by Checking from Email Client, you are ready to send Emails from FluentCRM now.
Process: FluentCRM Email Processing #
There are different places from where Emails can be sent such as Test Emails from Email Templates, Email Campaigns, Email Sequence, Automation Email Actions, Double Opt-in Settings, and Recurring Campaign.
For email campaigns once the scheduling is right now or scheduled later, the emails starts processing. This process is a task where FluentCRM starts generating Emails against each subscribers with necessary headers and email content. The next steps is to deliver the emails. It can be delivered through wp_mail() directly or if you have a plugin like Fluent SMTP. Fluent SMTP takes emails from FluentCRM and then relays to the Email Delivery Provider you configure in settings and used from FluentCRM.
Once FluentCRM => Fluent SMTP => Email Delivery Provider is done, the actual email delivery is dependent on the Email Delivery Provider.
Below is a screenshot of an Email campaign while sending a campaign. Please check the above links for specific features.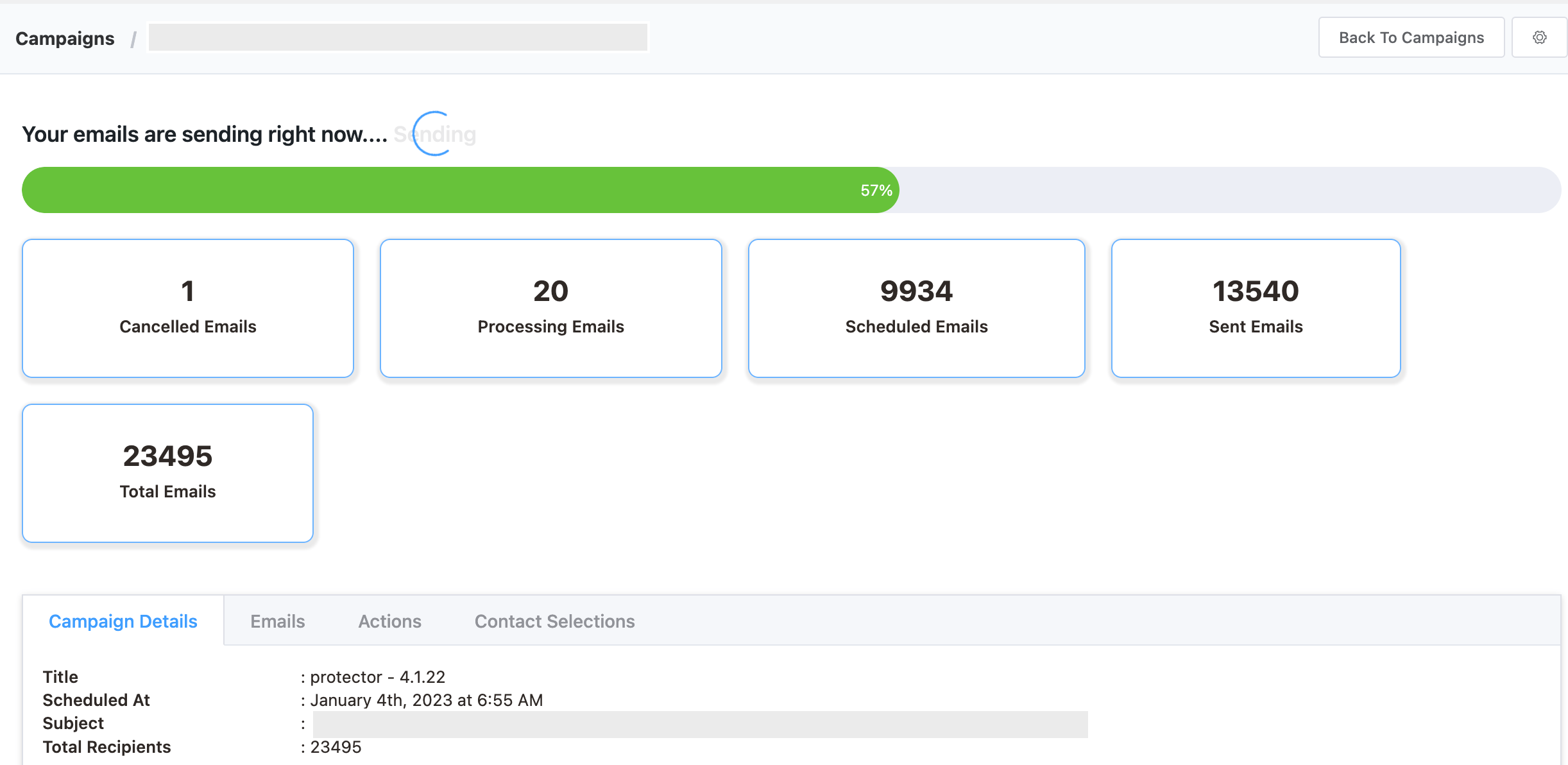 This processing of emails a very important step and will include the users with subscribed status filtered or assigned while you created and scheduled the emails from Email Campaigns, Email Sequence, Automation Email Actions, and Recurring Campaign
Schedule: FluentCRM Email Scheduling #
The emails can be scheduled or waited until a period of time from different places described below:
Delay Emails in Automation #
Below is an example screenshot of Automation Emails waiting for 1 Day. For more about this please check: Wait X Days/Hours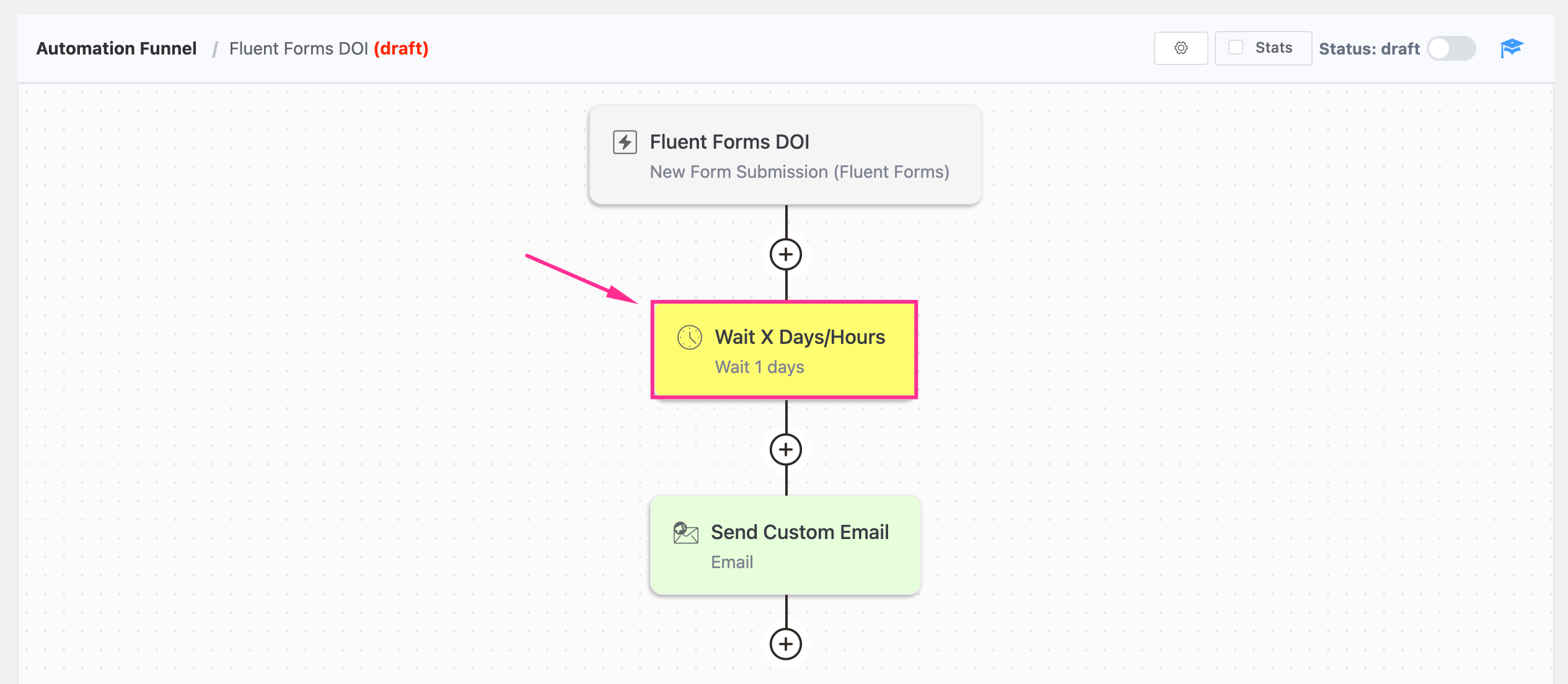 Delay Emails in Email Sequence #
Below is an example screenshot of Email Sequence Emails that are scheduled at different periods. For more about this please check: Sequence Delivery Schedule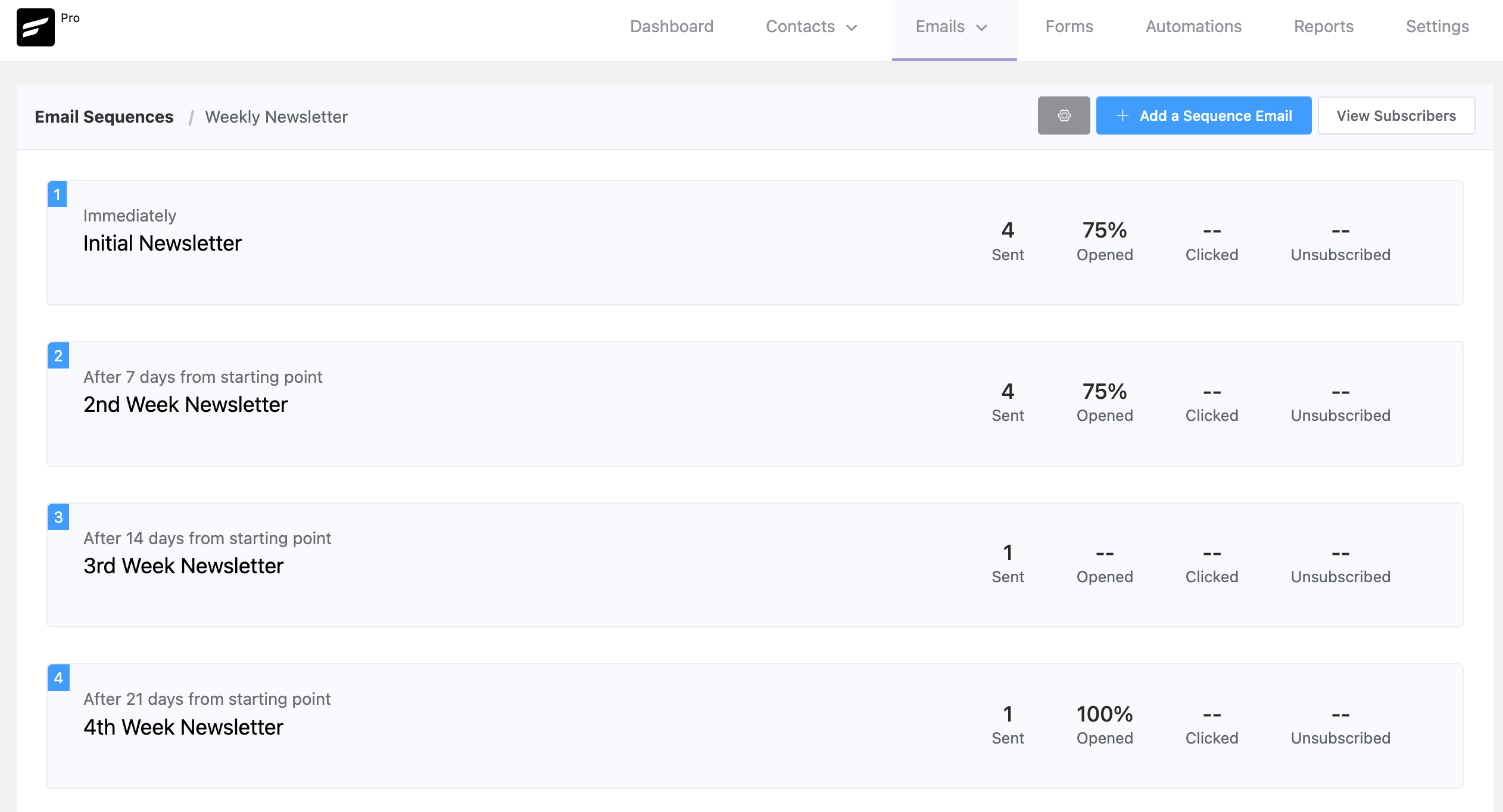 Email Campaign Scheduling #
Below is an example screenshot of Email Campaign Schedule. For more about this please check: Schedule Campaign Emails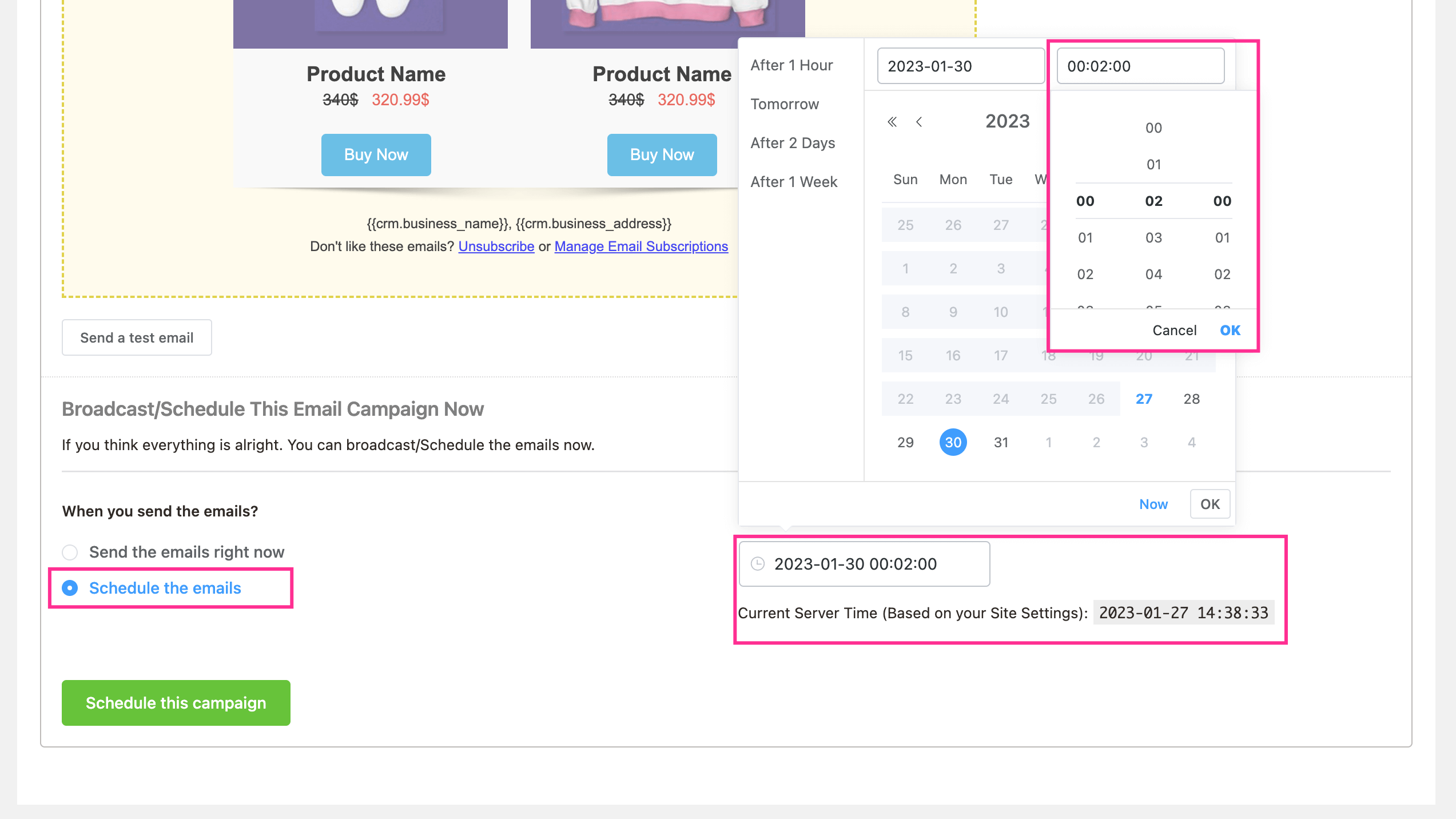 FluentCRM Email Sending: Speed, Limit & Performance #
FluentCRM does not restrict any volume based limits. You can set the maximum number of emails attempted per second. It can be lower due to a lot of factors like site performance, security or firewall limits, rules, the number of connections allowed from the remote mail server that delivers the emails, or by default WordPress hosting if no SMTP plugin is installed and configured.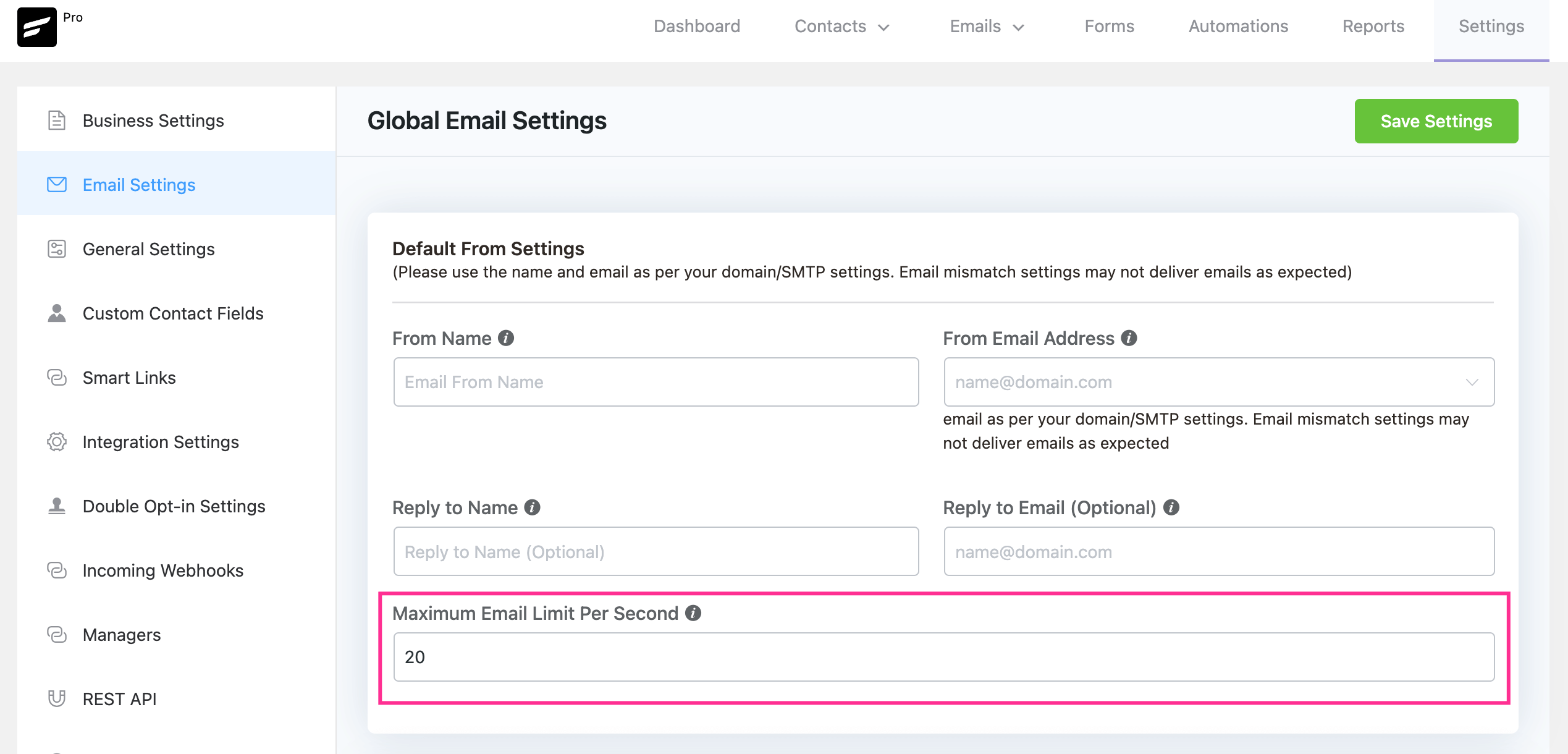 The actual email delivery limit or speed will be dependent on the email processing completion and then feeding the emails to the Email delivery Provider.
Processing Emails, Scheduling Emails, Sending Emails is a lengthy process behind the scene and requires a lot of Server Resources depending on the number of Subscribers to be sent and actual email delivery could be affected due to this factor!
*** Please read Cron Job: Basics & Checklist and consider Replacing WordPress Cron with a Server-side PHP Binary if you are facing any unexpected delays, mismatch in scheduling time, or not even sending the emails at all and then . ***
Compare Cron Status #
Please make sure that your cron status is the same as below screenshot.
FluentCRM Cron Status running 3 events on 1 Minute, 5 Minutes, and 1 Hour Intervals.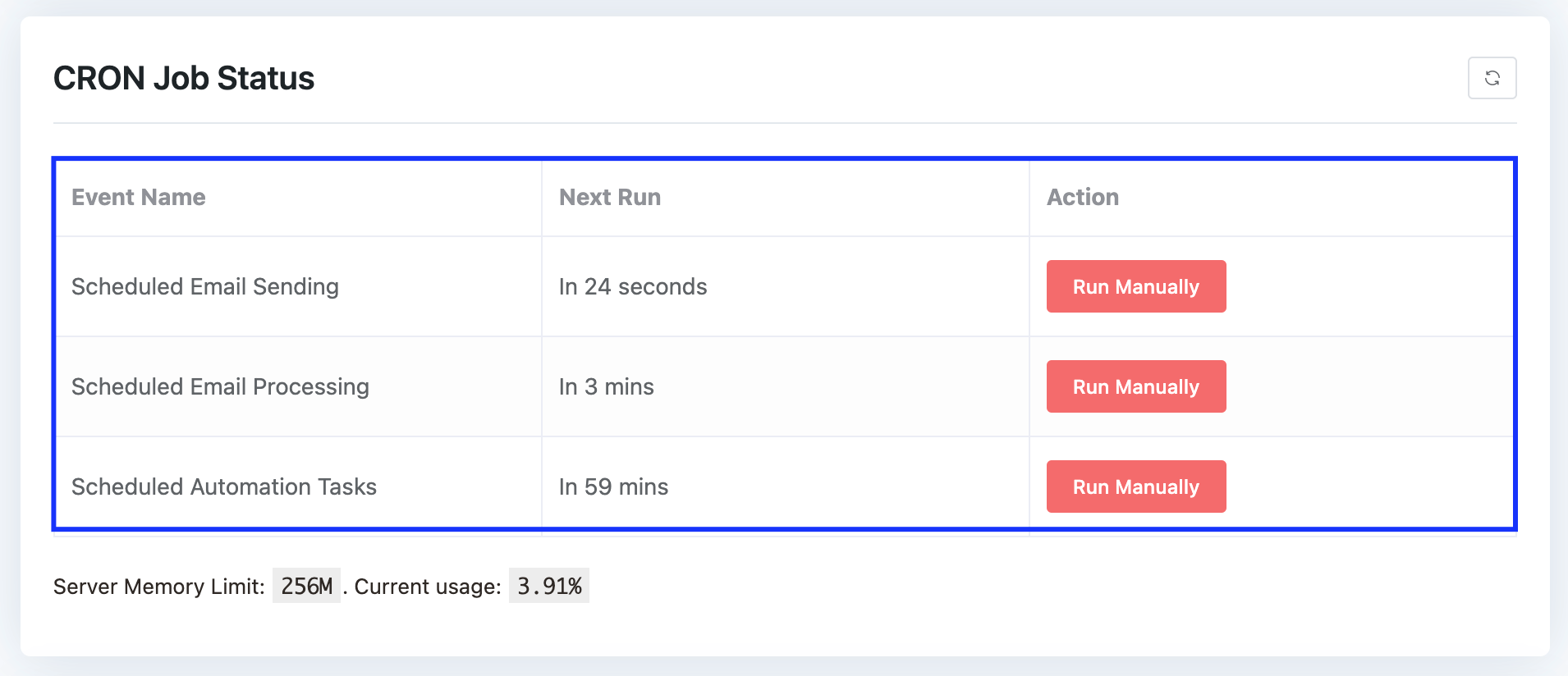 That's all about Email Sending from FluentCRM! Please read through our guidelines and documentation to learn in-depth knowledge about using and utilizing featuresof FluentCRM.